Get ready for an epic photographic story from this great trip fly fishing mahseer in Thailand.
Many men go fishing all of their lives without knowing it is not fish they are after – Henry David Thoreau
Many of us go on a fishing trip to get away from our daily grind, often that is work but can even be family, girlfriend(s) or boyfriend(s), one thing or another.
This is certainly a trip stressed-out and over-worked David is looking forward to although he doesn't really know what to expect being his first trip here.
This six-day trip is made out of four people and we arrive in Surat Thani on 17 February 2017.
WATCH THE VIDEO OF THIS TRIP
As before, we will stop by a small town for some absolutely delicious thai lunch and pick up some necessities before heading to the lake. Where we go, there is absolutely no retail amenities so bringing what you may need is important.
Let The Fishing Begin
We are blessed with good weather and water conditions on this trip and the anticipation is high. However, our trip coincides with another large group of anglers and that can make things quite tricky in the rivers.
Anglers are usually an optimistic bunch and we will need to pull out all the tricks from under the hat and we remain cautiously hopeful of good fishing.
Most of the rivers here present tight casting spaces and fly fishing can be very interesting as you try to put your fly on target effectively and avoid spooking the mahseer at the same time.
The better your casting skills, the more you will enjoy fishing here. All the obstacles are just reaching out to catch your flies, trees especially!
On the other hand, fishing here will also make you a better caster by the end of the trip. Keep calm when you make a mistake, be aware of your surroundings and make adjustments to your casts.
STRIKE ONE AND BIG MAHSEER
David hooks a nice first fish but the mahseer manages to get into structure and David has no choice but to break off the fly.
He is, however, impressed with the take and fight the fish put up and is looking forward to more.
One thing I notice often about many first timers here is they have a slower than desired reaction time during the take when fishing with dry flies like hoppers.
Some fish requires the angler to wait two or three seconds for the fish to turn before we set the hook. With the mahseer here, you will miss the fish if you don't strike as soon as the hit your hopper.
Some anglers have remarked those hit and miss are likely smaller fish, which may be correct in some cases, but striking fast will get you better hit rates.
David does not have that issue though as he go through fish after fish until he hits a big one towards the later part of day one.
MAHSEER FLY FISHING FROM BOAT
We decide to check out fly fishing from the boat to see what we could catch. It did not take long for the closure to be taken and whatever is at the end of the line surely put up a good fight.
We expected to maybe see a sebarau (hampala barb) come up but was surprised to see a blue mahseer!
We then spotted more mahseer coming to the surface and decided to change to hoppers again. Who can resist topwater strikes and sight fishing?
It turns out to be a blast as we hit fish after fish and even missed a couple of huge ones.
A NEW HOPE
Dinner at Khao Sok is always highly anticipated. What with the amount of walking and fishing one does during the day. Fishing can be hard work!
We have seen a couple of changes to the Thai cooks based here over the years and thankfully, the quality of the cooking has largely been about the same…good, authentic Thai food.
Guess it is not easy to work in such a remote location.
One glaring change however is the number of visitors here has increased significantly. Not just anglers but also wildlife seeking sightseeing tourists.
The subsequent days see us catching more mahseer but did not land any bigger than the one on day one.
We manage to largely outwit the other groups in the rivers except for the final day. Guess they could have finally wise up!
David did hook two big mahseer, one pulled open the hook as David hanged on to the line from atop a 50-feet hilltop, and another broke his leader as it took a sharp turn near a rocky pool.
A very good trip, nonetheless. And we hope you enjoyed looking at the pictures. Do leave a comment below. Feedbacks are much appreciated.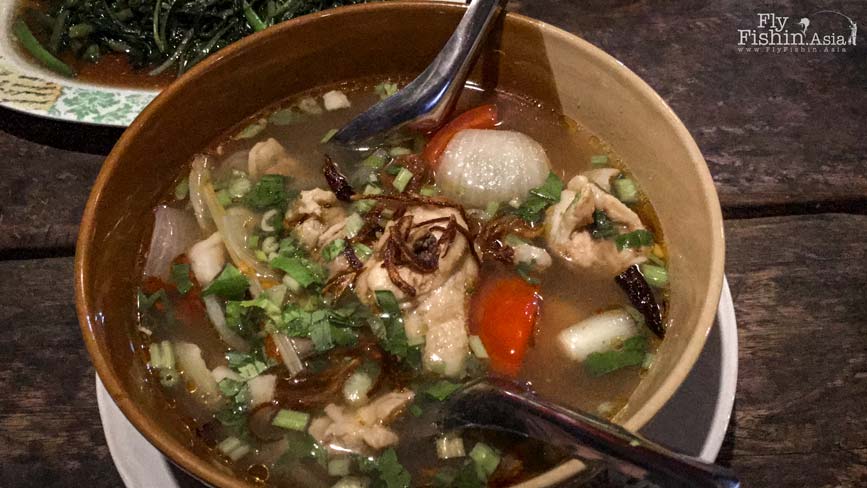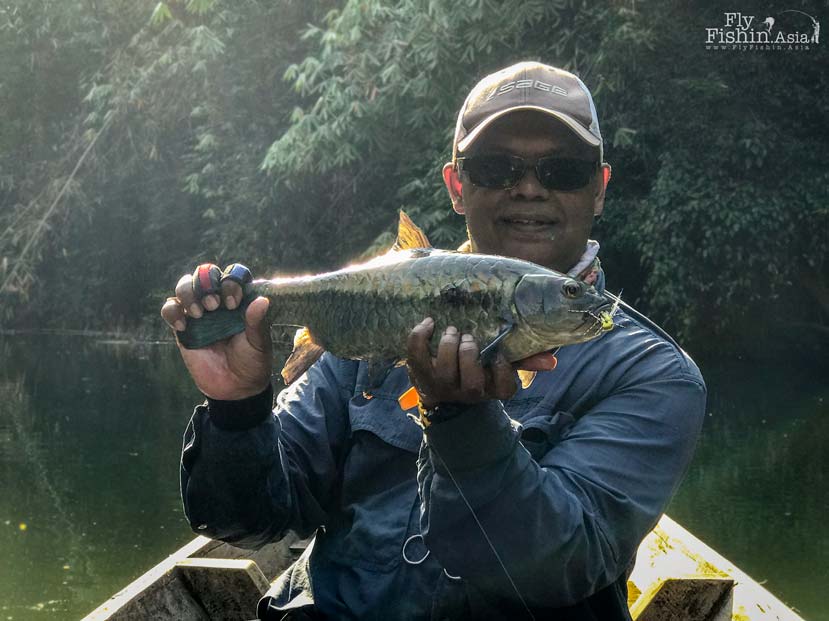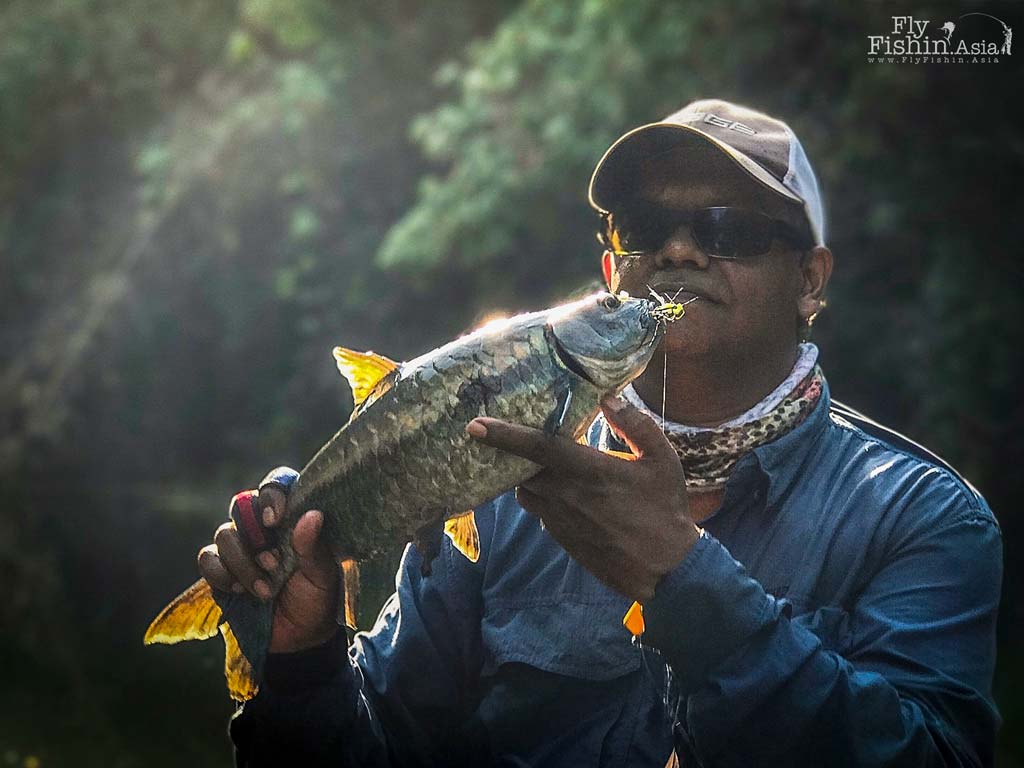 Some pictures shared by others on the trip
Photo credit to Fendi and Aznir.