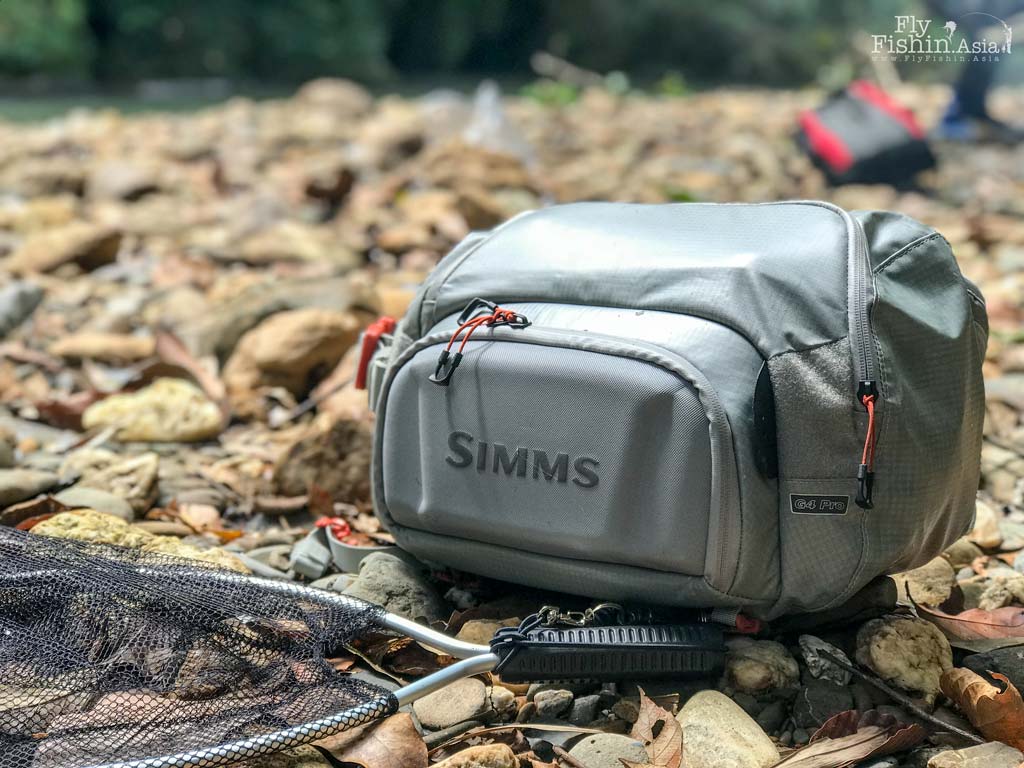 I've switched to using sling packs for some time now for day trips. I find waist/hip packs too small most of the time and they ride too low, when wading they tend to soak in the water. Backpacks are great with plenty of storage space but troublesome to take off and retrieve gear and putting them back on repeatedly.
From New York to Kuala Lumpur
I want to thank client and friend, Quinn for this very cool sling pack. I immediately went to town with it. Well actually, went to a saltwater pond with Nick and Alan who's visiting from Perth Australia.
This is soon followed by a more hardcore trip to Cheow Lan lake Thailand, fly fishing for thai mahseer where the pack really took quite a beating.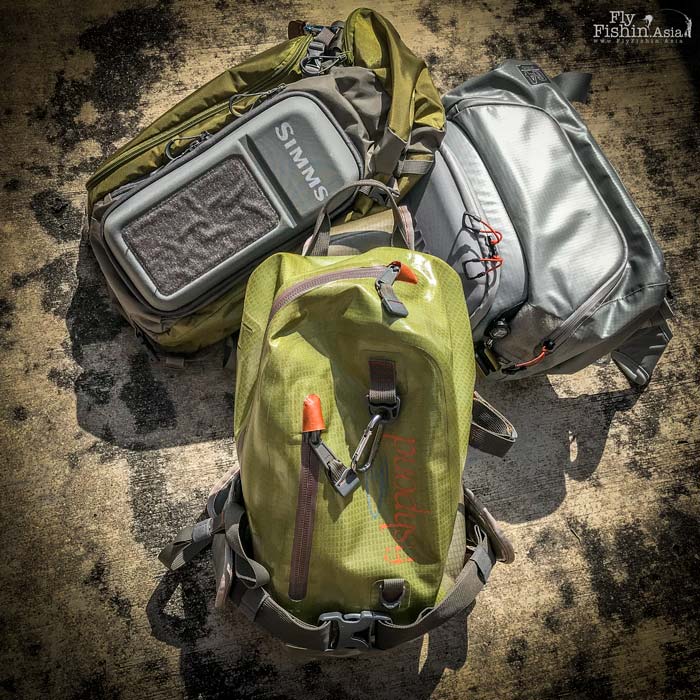 I Never Know I'd Be Collecting Bags Til I Got Into Fly Fishing!
How many bags does a man need! It's one of those things about fly fishers, you can never have enough. In an ideal world, I'd have a bag/pack for every fishing situation so I can just grab and go river fishing, flats fishing, boat fishing, freshwater fishing or saltwater fishing.
By the way, paying premium for a branded pack does not always mean you'll get a quality product – like the Sage Typhoon waist pack that I had that literally disintegrated over use right from brand new.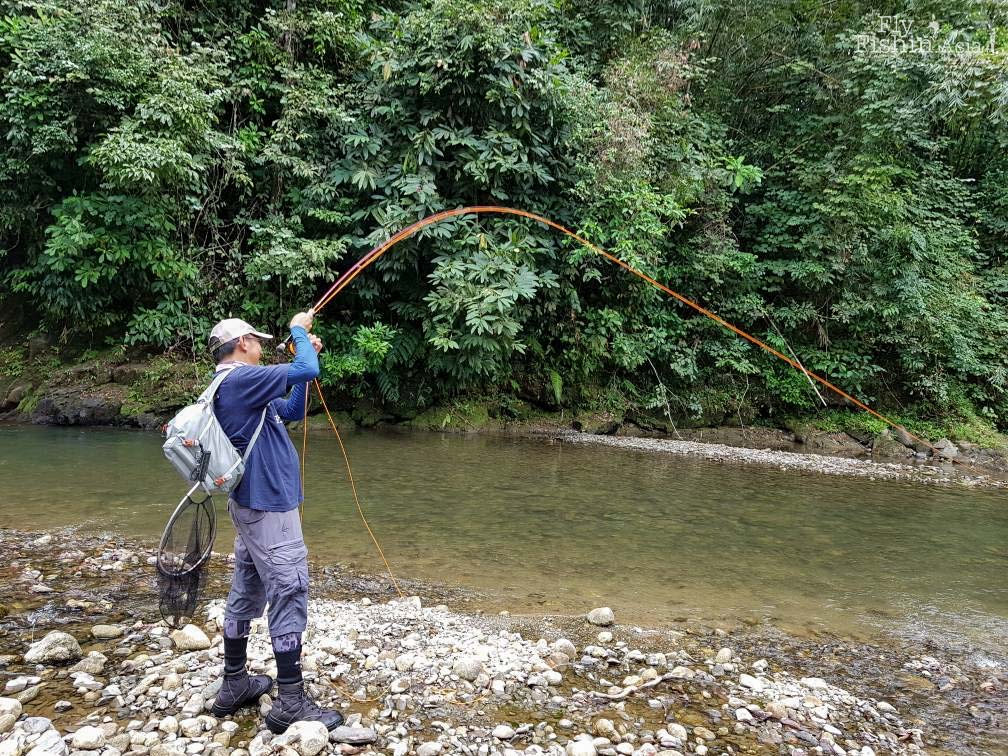 Size Matters
Unlike the Simms Waypoints sling pack (10L and 17L) the G4 only comes in one size.
The capacity of the G4 is supposedly 21L. according to Manic Tackle Project but I'm pretty sure it holds less gear than the 17L Waypoints sling pack.
I'm very sure I can fit less things in the 21L G4 and more things in the 17L Waypoints. Strange, but true.
Lots of Compartments
Layout wise, the G4 is basically made out of one main compartment under a u-shaped zipper to hold larger items such as fly boxes, a water bottle and such.
Other than the drop-down work bench upfront, which you will find a bit hard to see if you have a bulging main compartment, it has plenty of small compartments to stow smaller items.
There are two zippered inner pockets for less needed stuff, I put my wallet and documents in these, in waterproof bags!
As a guide, I tend to have a million things to lug around including the kitchen sink so when it comes to packs and bags, bigger is usually better than too small. In comparison, the Simms Waypoints sling pack holds more gear.
The Fishpond sling pack I have on the other hand, is devoid of much compartments. Making do mostly with one big storage space. It works in some ways and you can put lots of stuff in it.
A Bit Heavy
G4 Pro sling pack 1,037g
Waypoints sling pack 878g
Oddly enough, Simms does not state how much the G4 weighs and its capacity in their product page. But it is quite a bit heavier than the Waypoints, likely due mainly to the material used.
Does the extra weight matters much? Yes if you have quite a bit of gear in it, including water bottle(s). After a couple of long days your shoulder will start complaining and let you know.
Attaching A Landing Net To The Simms G4 Pro Sling Pack
Every respectable angler should use a landing net. It helps you land a big fish when you finally hook one. There is no need to drag a flopping fish up the sand or rocks and it keeps the fish in the best condition possible while you take photos.
Although there's a d-ring and a slot to hold a landing net, I spent hours trying to rig one to the Simms G4 Pro sling pack.
Don't ask me how yet, I'm still trying out different positions and going out fishing to find out what works best.
The Wet Test
Waterproofing is an important consideration for me when choosing gear as it rains quite a bit over here in the equatorial countries. When it rains it pours, and it can rain all day.
It rained a fair bit during the Thai mahseer trip to Khao Sok, Cheow Lan lake.
The G4 was on my back throughout the four full days of fishing including when I slipped and fell into the water three times (that story about footwear here)! And a long trek out of the jungle in the rain.
The inside of the G4 got wet and it wasn't unexpected as I simulated a wet test prior to the trip. Watch the video below.
I did not expect the G4 to be waterproof, as it wasn't. But I was hoping it would be more water resistant.
This is extracted from their product page…
"The G4 Pro® Sling is an over-the-shoulder pack with an interior lining that keeps your gear dry, even when you are chest deep in swift moving waters."

"A durable sling pack that stores all your gear and keeps it dry."
Well, not quite.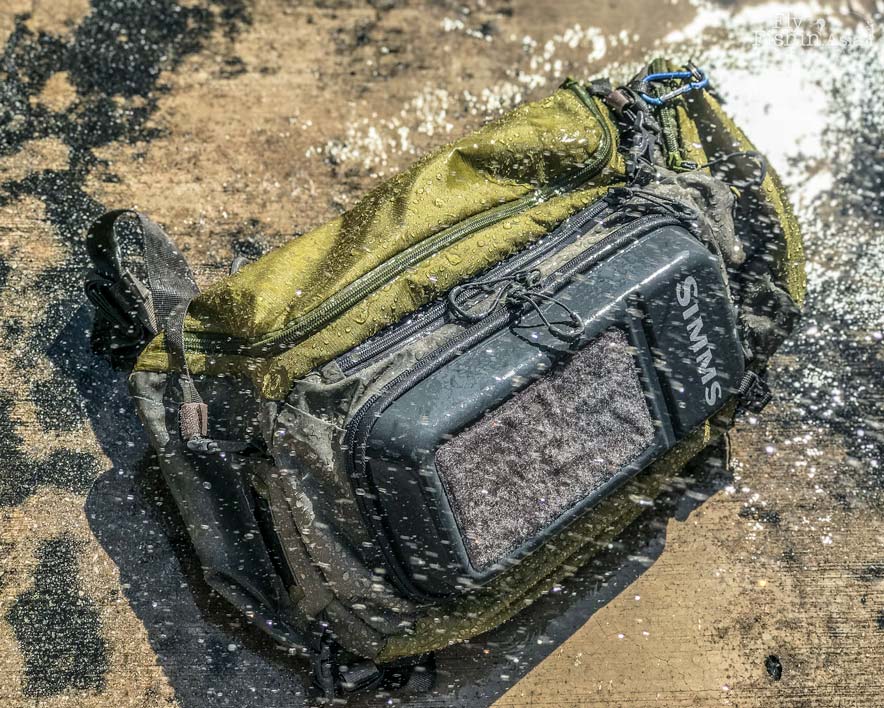 Verdict
Will I buy the Simms G4 Pro Sling Pack? No.
It is not a bad pack but I expect more from a pack that cost $179.95 US.
The G4 is good overall except that it doesn't keep water out very well at all. I rate this a 3 out of 5.
What's your current or favourite pack? Leave a comment.