The best all round fly rod for Kuala Rompin's sailfish is a 12wt. The 12wt suits the commonly caught +/- 20kg (45 pound) sailfish here. A rod that weight will allow you to enjoy the fight with the claimed fastest fish in the ocean and still allows you to control the fight when needed.
Go Big or Go Home
Having said that, the occasional big mommas (above 40kg / 90lb) do make an appearance and we've seen anglers struggle to have the upper hand, stretching the fight time and risk losing the battle.
By struggle, it means trembling hands, aching muscles, heavy perspiration, and (heaven forbid) the thought of passing the rod to someone else.
When you have an epic fight on hand, you may wish you have a 13wt or even a 15wt in your hands. So do not worry about going heavy, having a beefy rod in hand can come in handy.
It can be massively disappointing having come this far to lose fish because you're under-gunned. It is challenging enough that many things have to happen in the right sequence, the right way at the right moment to successfully land a billfish on fly. It almost seem the planets have to be aligned to make things happen so having hooked one and loose one due to inadequate gear would be a bummer.
Double grip rods and rods with extra long cork (handle) help with battling stubborn fish. Together with a rod with strong backbone, a double grip also provide more lifting power especially towards the end of the fight. All fly fishermen knows the short handle coupled with reel positioned at the end of the rod gives it a poor leverage to fight big powerful fish.
Do not worry too much about casting a heavy rod as there will not be much false casting when employing the trolling-teaser-to-raise-fish method. However, being physically fit and strong will only benefit you, as in the case of nearly all big-game fishing scenarios.
You can also have a 12wt or even 10wt ready rigged for casting at free-swimming sailfish or other pelagic that we may chance upon in the course of the day.
Keeping things simple – There are so many variables to fly fishing for sailfish, it can be very unpredictable and many things may not go as planned. It is good to keep things simple. A stripping basket is not a must casting from the transom, one less thing to get in the way. A stripping basket may come in handy when casting from the bow.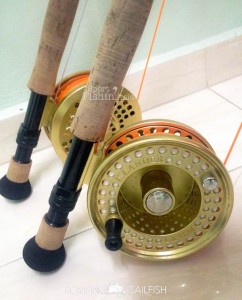 Fly reels for sailfish must be in great condition, holds at least 300 meters/yards of backing (more is better), with very good and smooth drag.
I have seen many fly reels fail dramatically on our boat! Even supposedly good reels.
If you're planning on buying a reel, choose a reel with a really large arbor. You will appreciate the quicker line retrieval advantage that large arbor reels offer when sailfishing.
Marlin
There are marlin in Kuala Rompin's waters but they are more of an exception than the norm. The marlin caught here have also been juveniles thus far so the same tackle for sailfish will usually get the job done. These juvenile Marlins however, do go up to the 100kg (200+lb) mark and can put up quite a fight. Will you be lucky enough to hook one?
Do we supply the gear on our charter?
If required, we can provide you with the appropriate gear upon request. Anglers are welcome to use their own gear.
It's always a good habit to familarise yourself if using new tackle and practice casting before a big trip.
Putting in some practice casts, getting those kinks fixed or muscles working and getting yourself absolutely prepped before going on a big fly fishing trip be it billfishing in Rompin, or anywhere else for that matter, can make the difference between enjoying yourself, having a successful trip or just a waste of some hard-earned cash.
For enquiries, please contact Juan here.