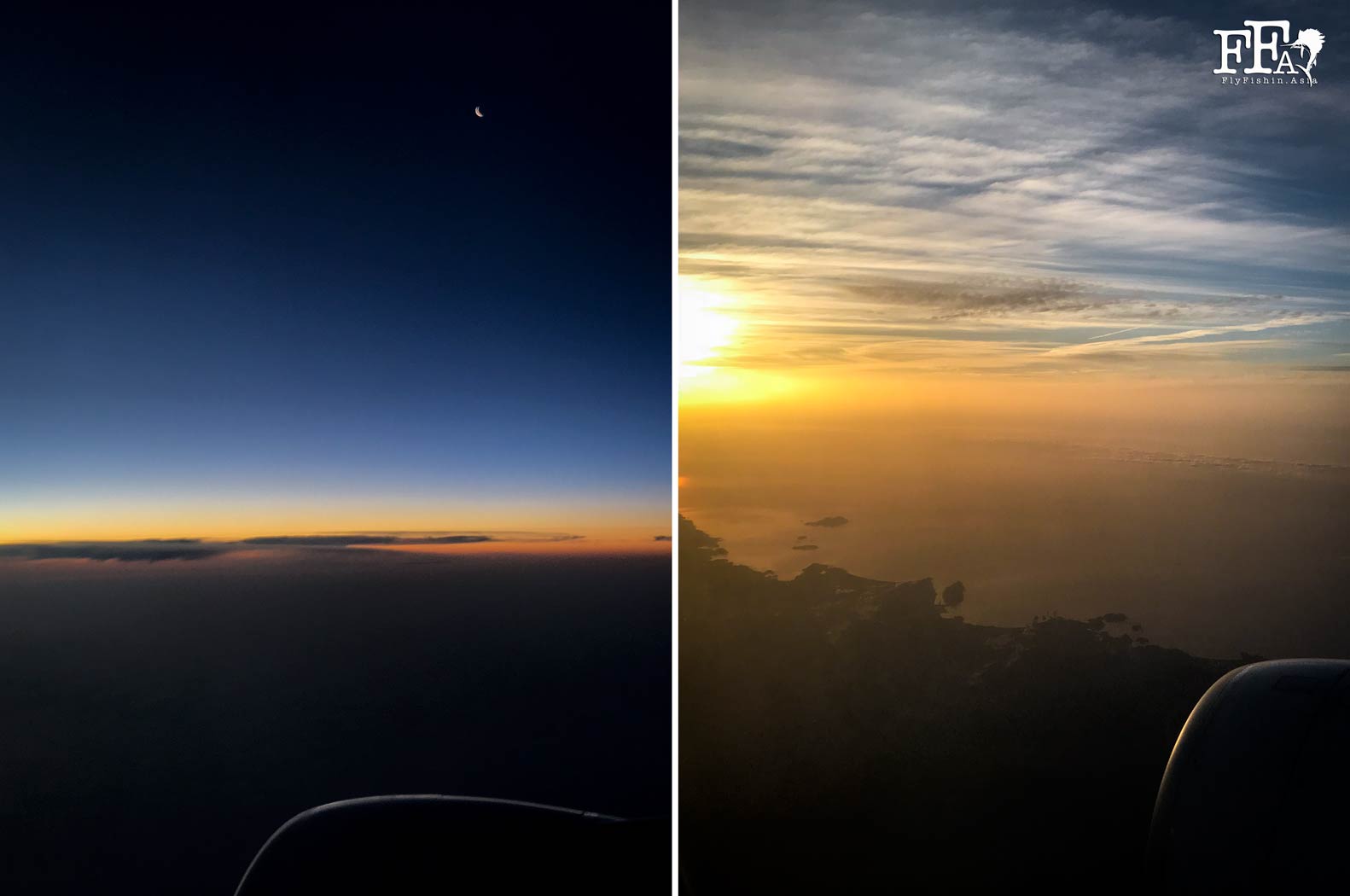 My wife and I have been going on holidays in Japan in recent years and we found ourselves in Japan again this spring of 2019. We find Japan a fascinating place filled by a mix of experiences with friendly people, amazing cultures, wonderful food and beautiful countryside.
This trip sees us flying into Tokyo with a short day trip to Mount Fuji. We will then travel using Japan's amazing railroad system to Takayama and we included a visit to Shirakawago.
We will then head back to Nagoya before transferring to Osaka.
This is also an opportunity to catch up with some good friends in Tokyo and Osaka who are also fly fishers, plus squeeze in some time to do some fishing.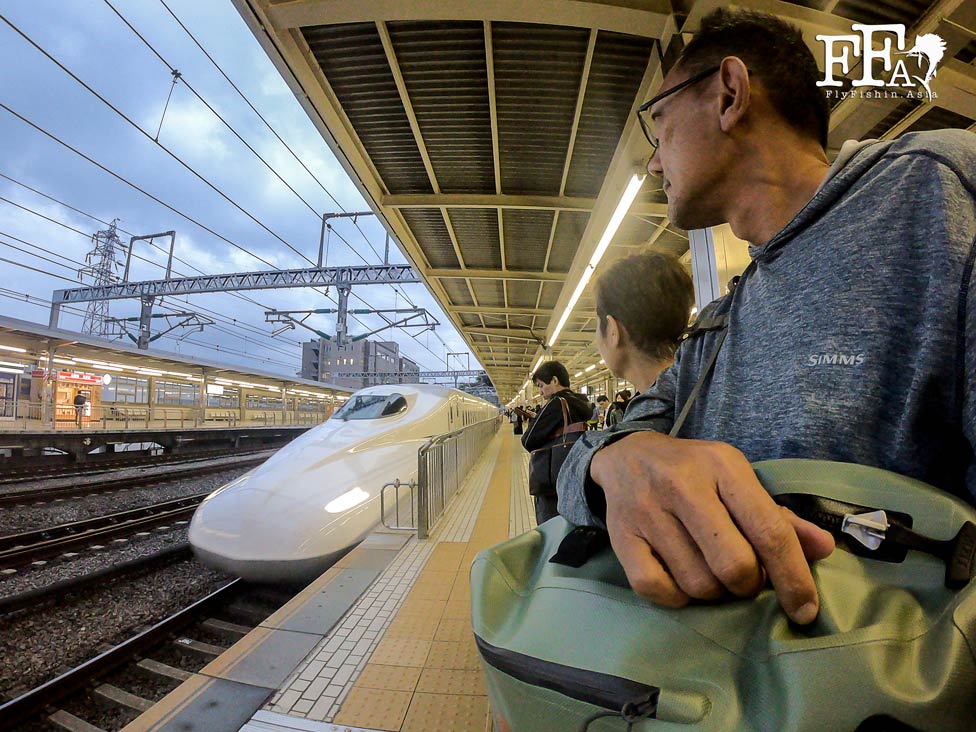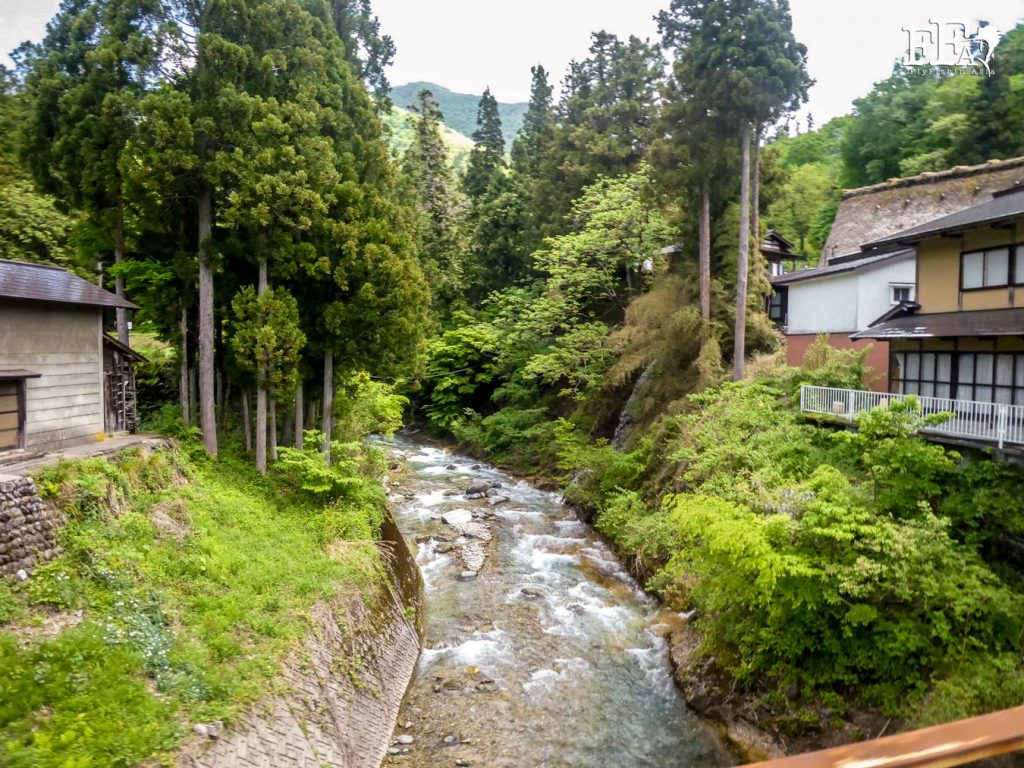 What an incredible spring evening it was in Osaka Bay.
I have always been curious about fishing for seabass ever since first hearing about it and seeing them in videos and print.
I was curious about the mostly nighttime pursuit for them, wondered about what it's like criss crossing a busy bay area and hunting for them amongst ships, dockyards and other structures you'd typically find in a busy bay area.
How hard do they fight, and are they difficult to catch, or easy? There are many questions that had buildup in my head.
Yusaku San picked me up from my hotel in downtown Osaka at 7 plus that evening and we headed straight to Osaka Porto Marina where we arrived after a 20 minutes drive from the city, Kato San and the boat are already waiting for us.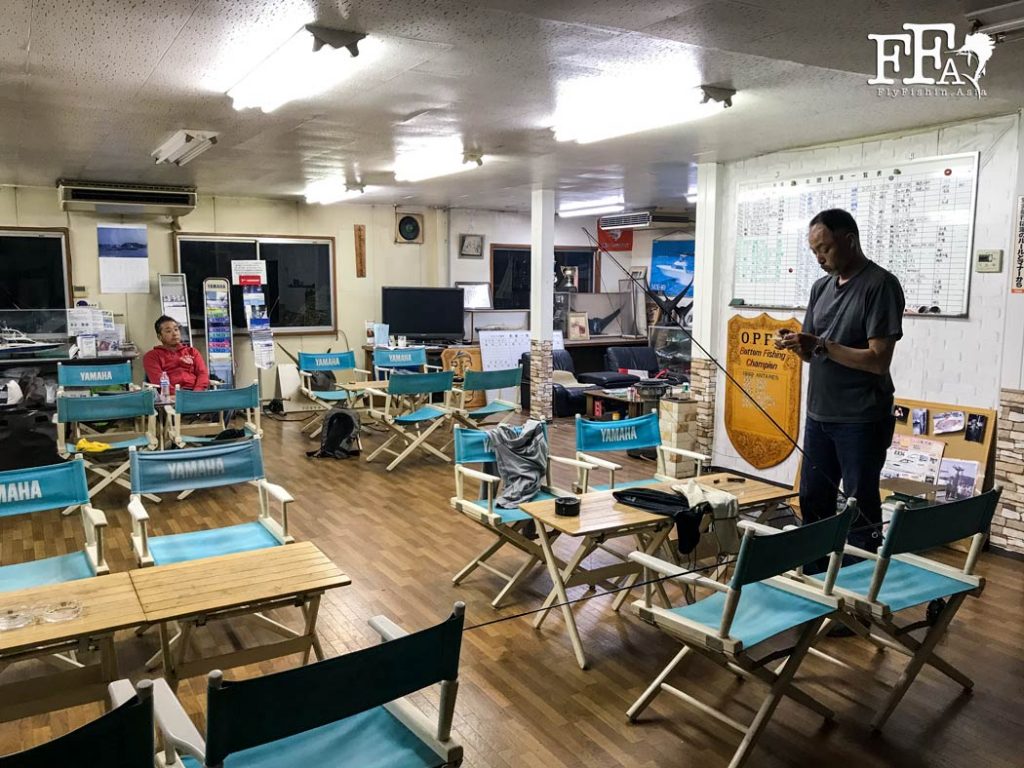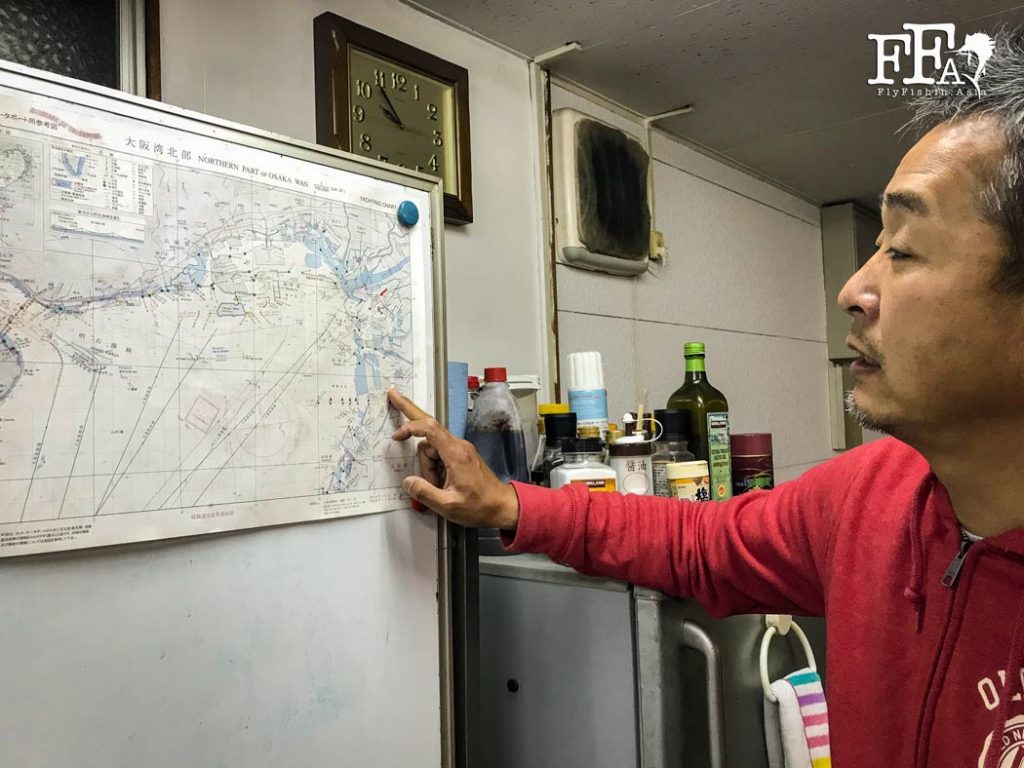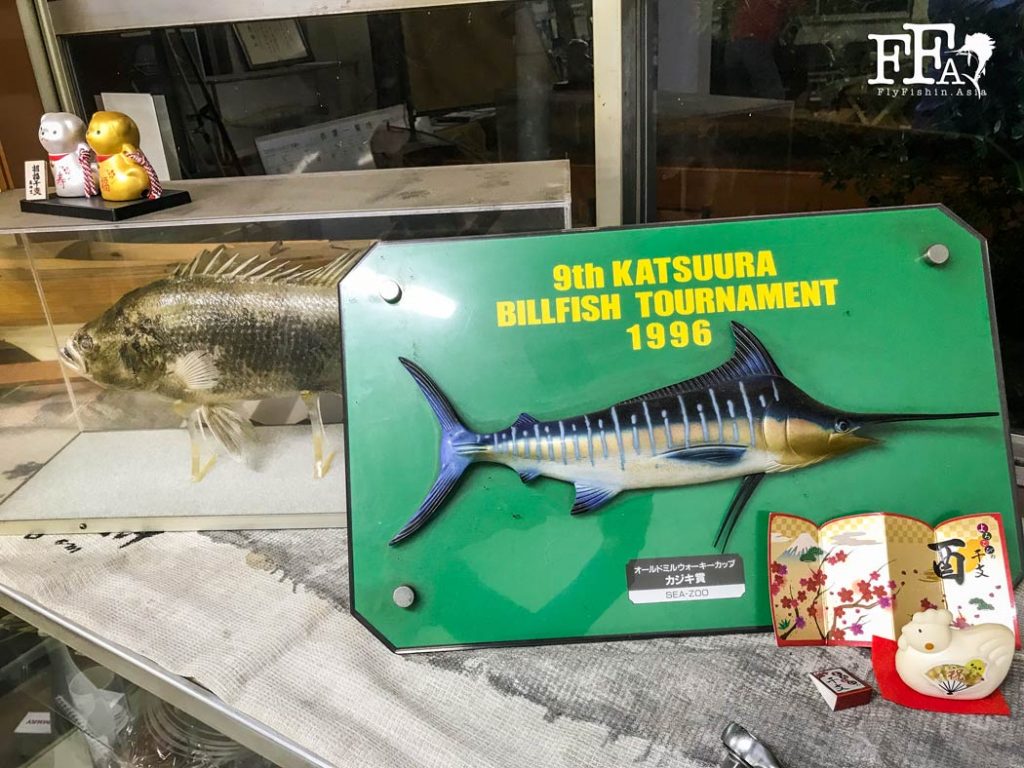 All Set
After rigging up the rods, reels and tying on the flies, we had a quick cup of hot coffee before donning our PFDs and loaded up the boat.
We were off in a flash and after a short boat ride was at out first fishing spot which is a boat pier. The sheltered structure consist of thick beams with narrowing base where the suzuki (Japanese seabass) likes to hide beside or under.
There is also a ship tied alongside pier and this is where the seabass will be hiding under ready to ambush any baitfish that comes within range.
Time To Fish
The weather that evening is perfect (for me at least). It was a comfortable 18-19ºC with a light breeze when we hit the waters around 9PM. The day had been sunny and there was strong winds earlier around 5pm.
I learned from Yusaku San the fishing have been good the past weeks. However, as always I remind myself to go on fishing trips full of excitement but without any anticipation. That mentality has been fairly successful for me as the days usually worked out great no matter the outcome.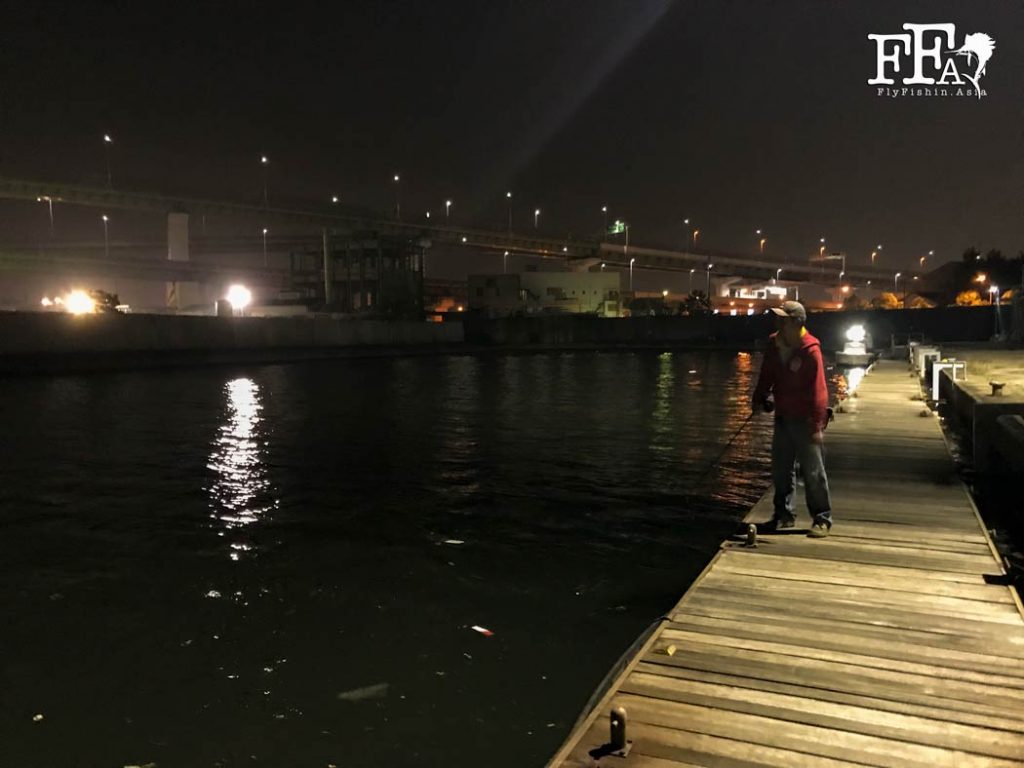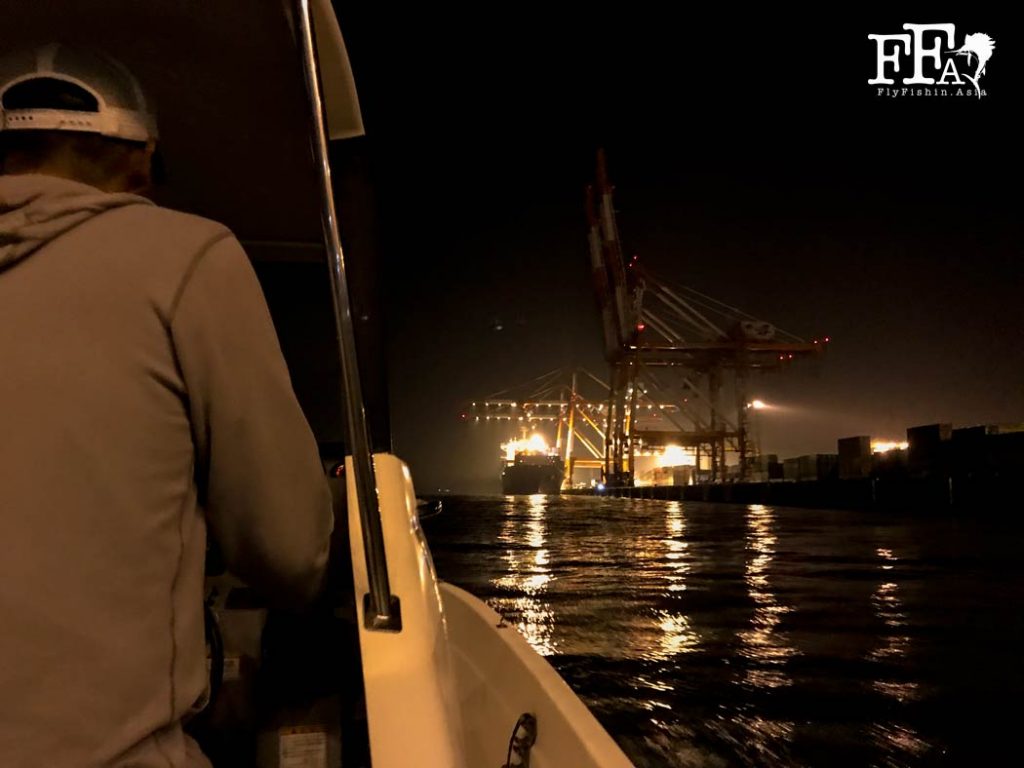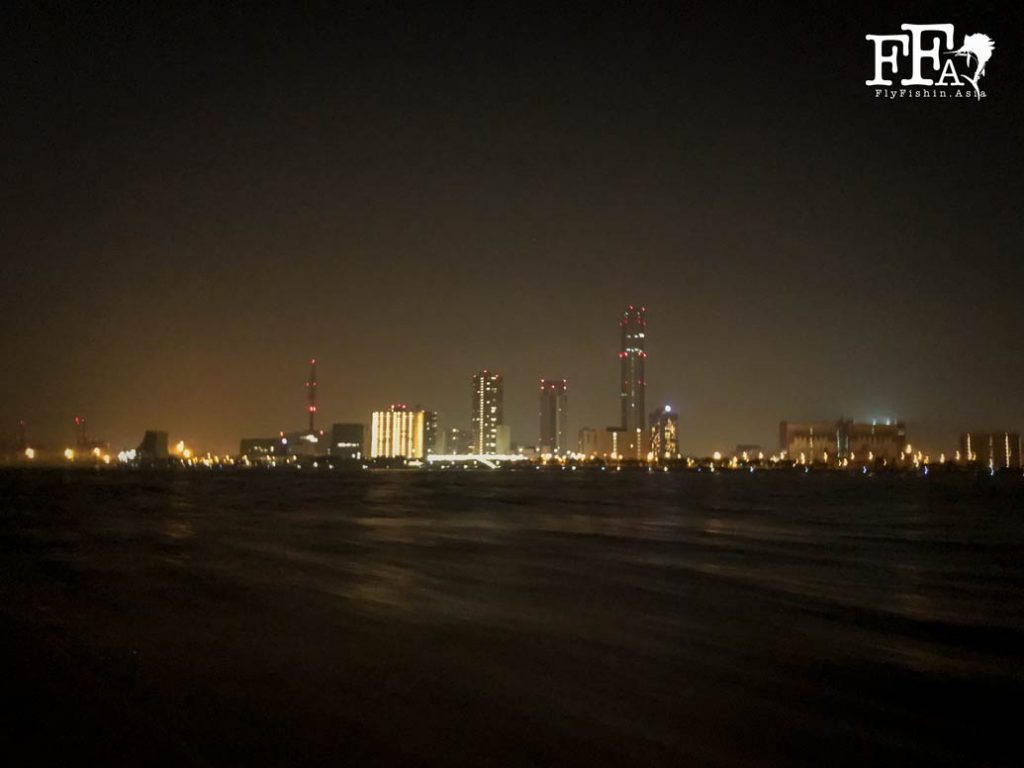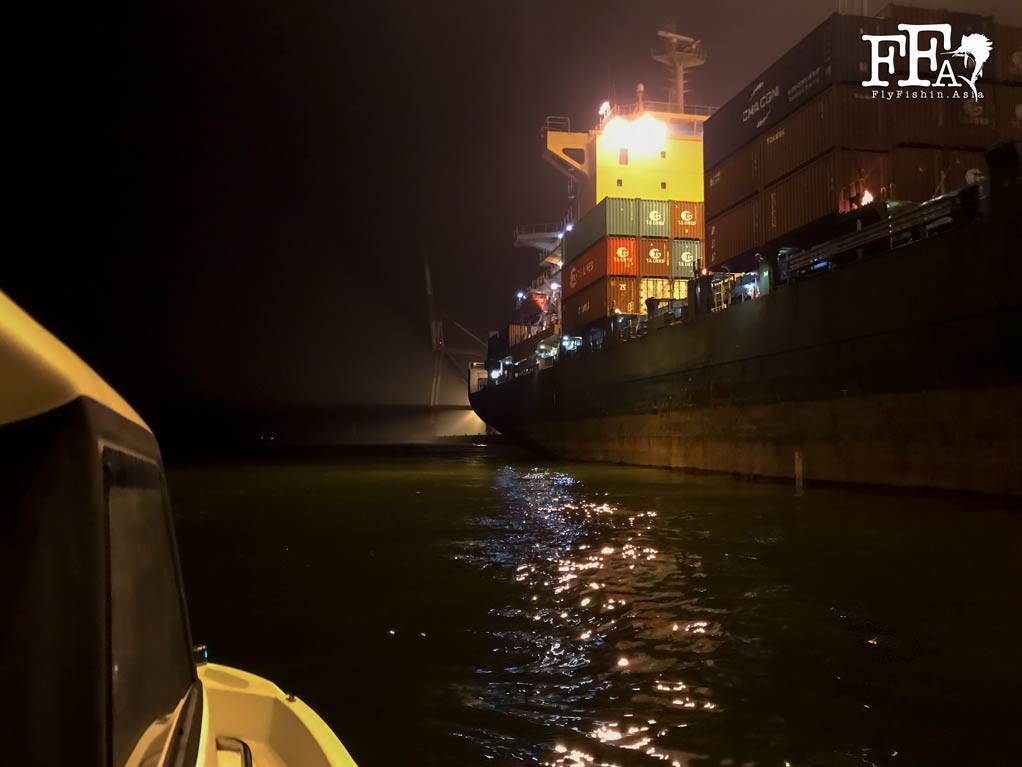 Night Game
We were all excited as we started our first drift pass the pillars. We could see fish activities as predators harassed bait on the surface.
My first cast registered a bite but no hookup. This as I were to find out later became a common occurrence. They are either short strikes or hits from small fish.
My first seabass came in only my second or third cast. It wasn't a big fish but I was ecstatics nonetheless and there was rapturous shouts from Yusaku San and Kato San!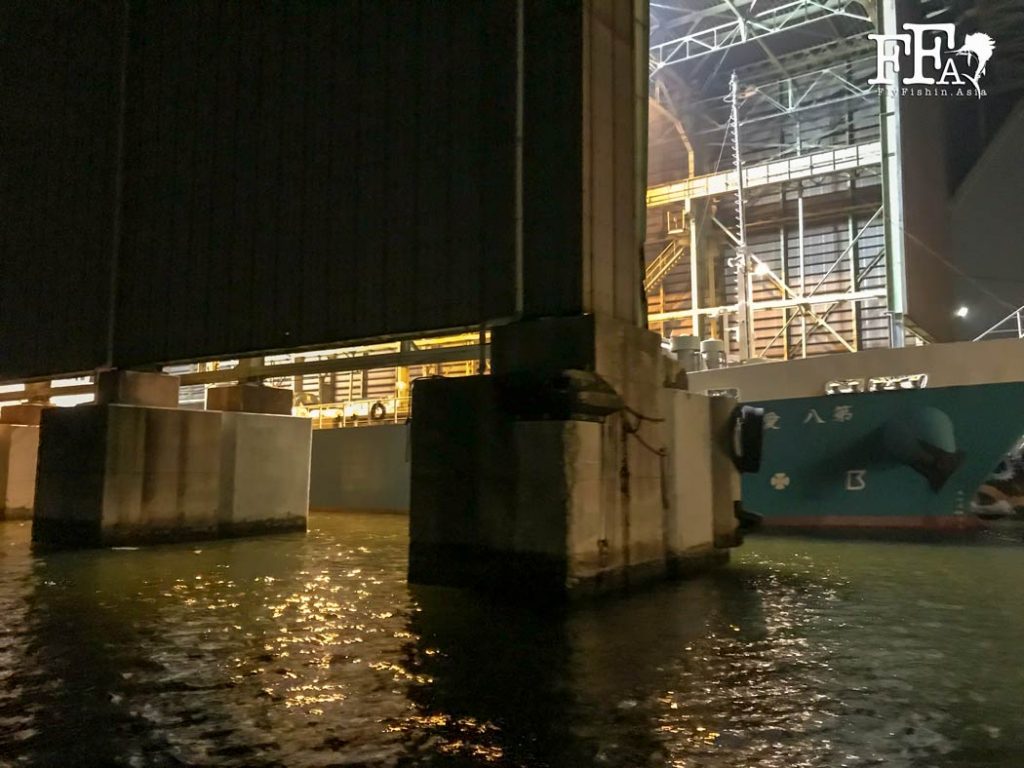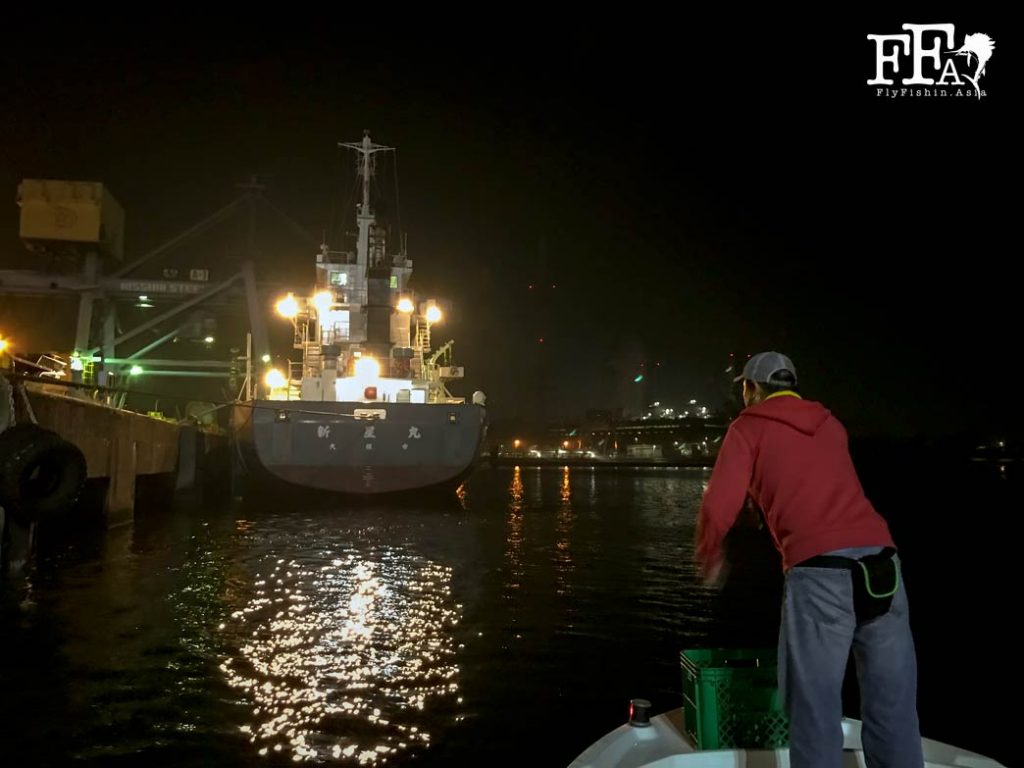 One Cast One Fish?
As it turns out, the fish were on the bite that evening, just like my two Japanese friends were expecting and hoping for.
We continued our drifts along the structures with casts going to the edge of the pillars and also right into the edge of the ship. More fish was caught including a presumed big one. This fish took my fly that was casted along the ship's hull, let sink for a moment and it ate the fly during the strip.
Kato San backed the boat out from the structures and after more gaining and losing line, Yusaku San had the landing net ready as we could see colour of a good fish but alas, the tippet gave way!
After that setback and a couple more fish, we were informed by the ship's crew that they're moving out and another ship is coming in to berth.
We were hoping for a gap in time before the next ship comes in but no such luck as we could see the huge ship approaching.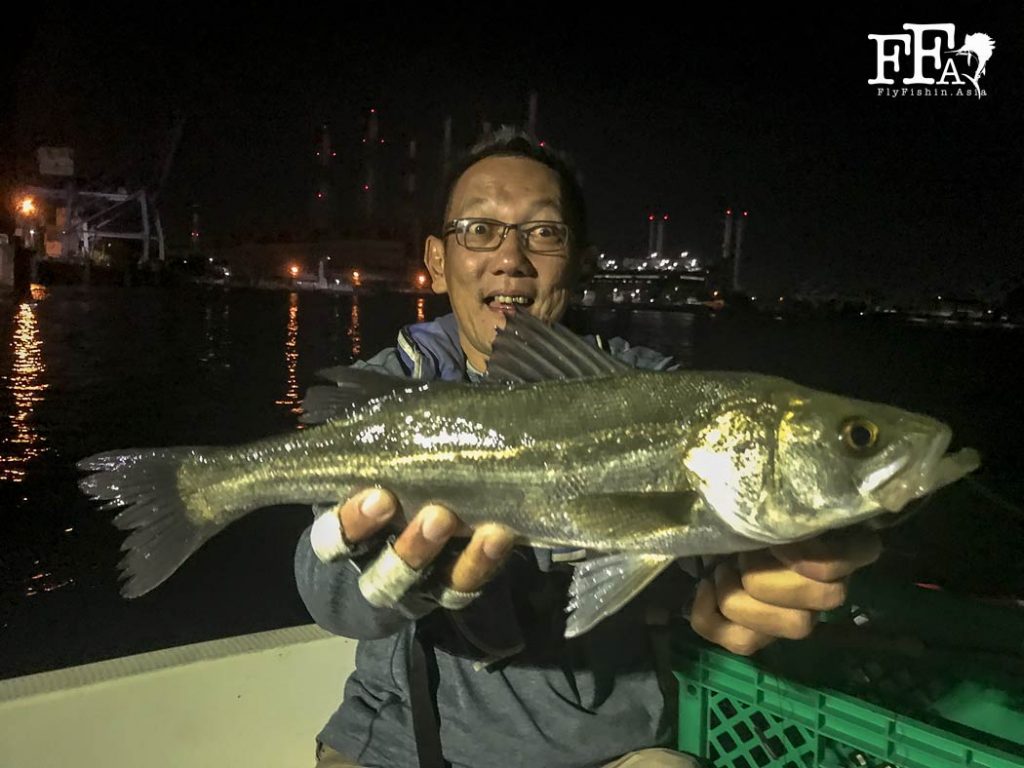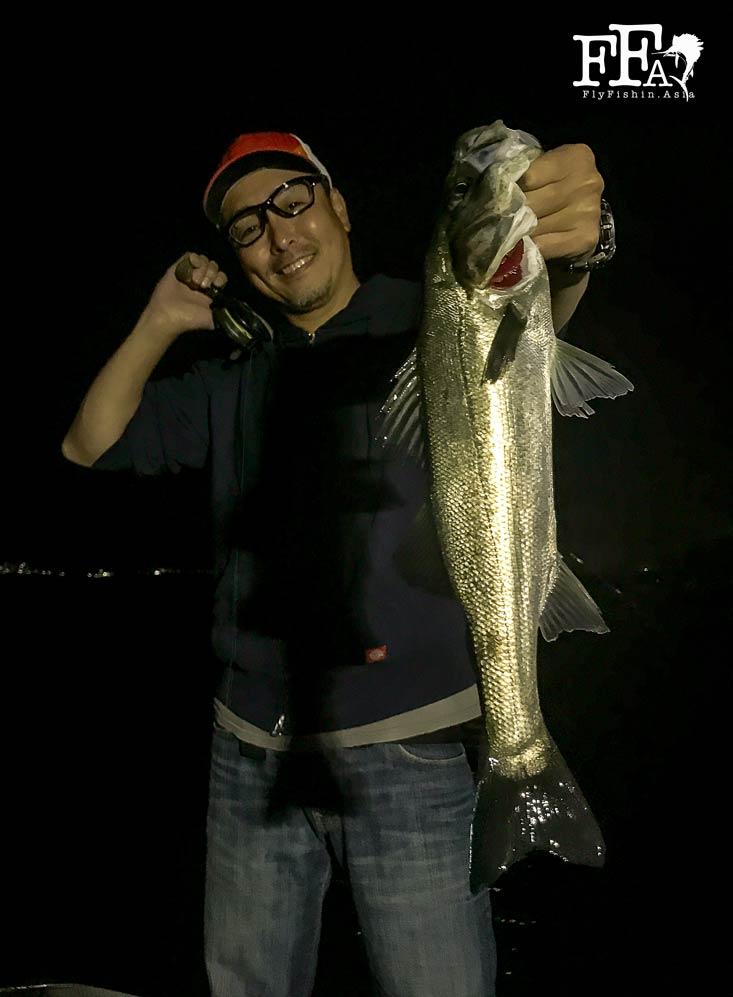 Next Spot
We decided to try another spot not far away. And again, we could see fish busting on the surface as we approach. We are going to have a par-taay!
This time there wasn't much structure as we're basically casting to the side of another side.
I pulled fish after fish from this spot and Yusaka San showed how the expert does it by pulling out a nice fish from just one cast.
After awhile we decided to head back and try the first spot again to see if things are any different.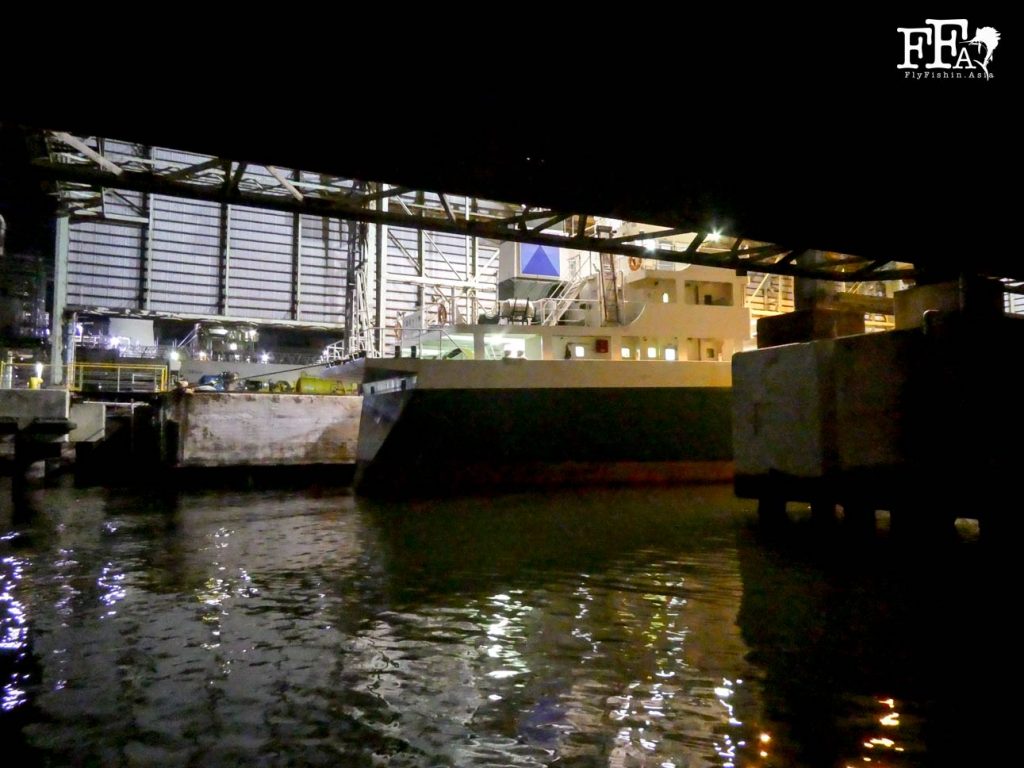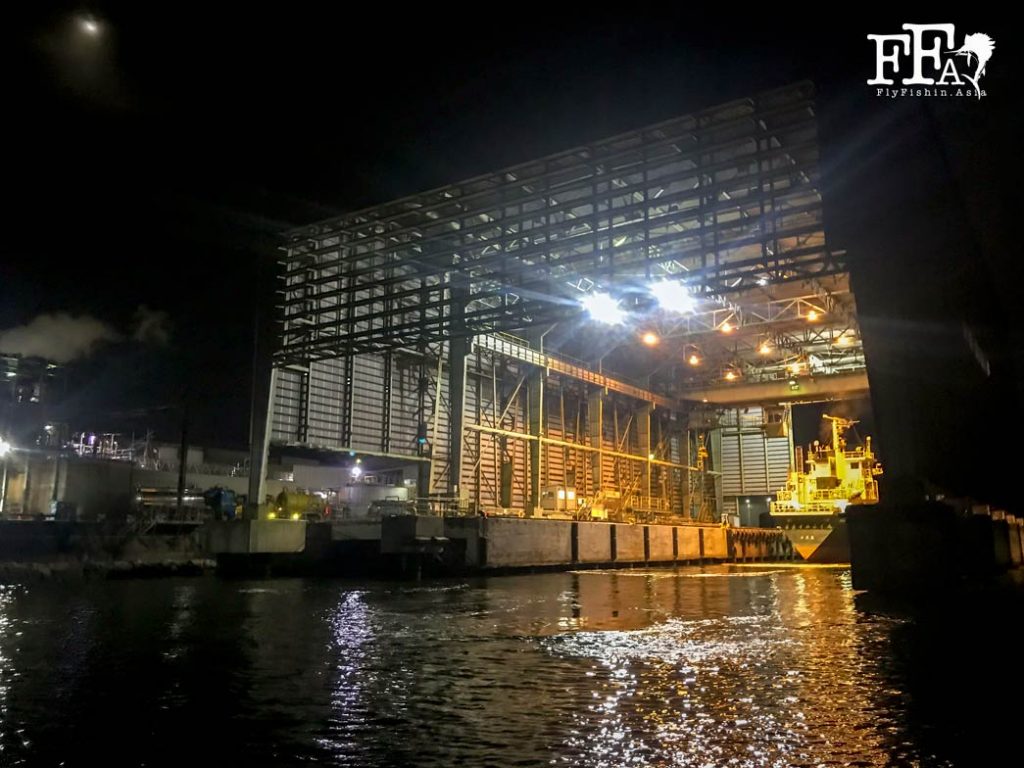 Back to Square One
As soon as we arrive we notice action at the same spots between the pillars and the hull of the ship.
Didn't take long for the strikes to start again and fish after fish ate the fly.
Equally as many was the missed-strikes. Just imagine how hot the action was that evening.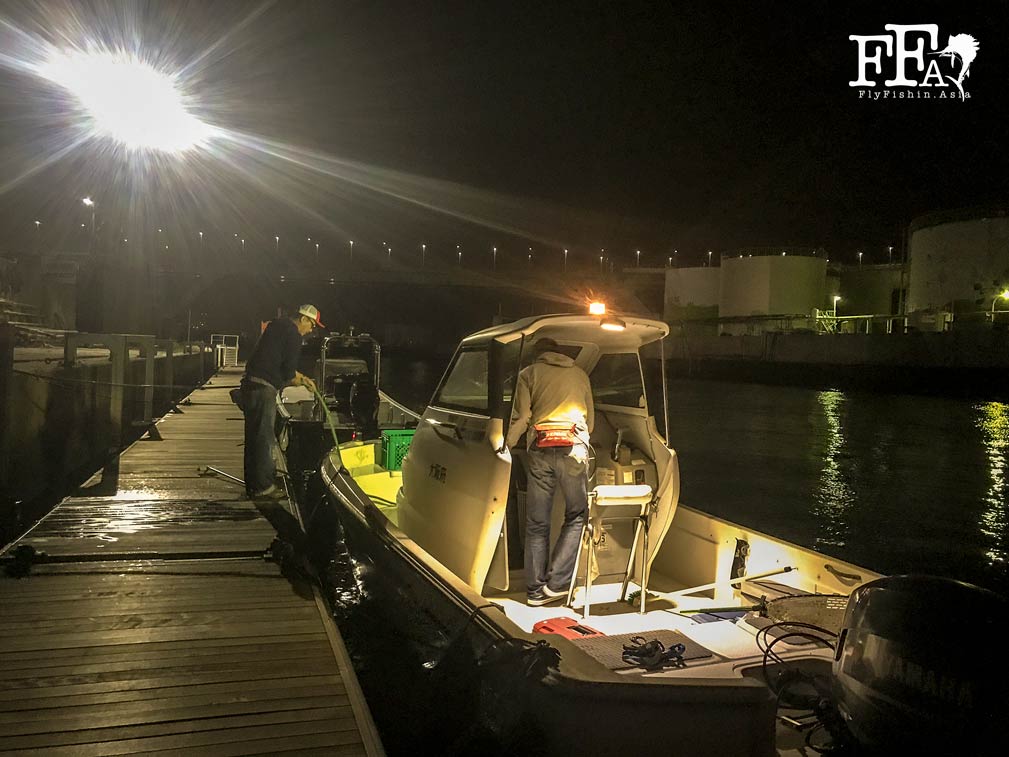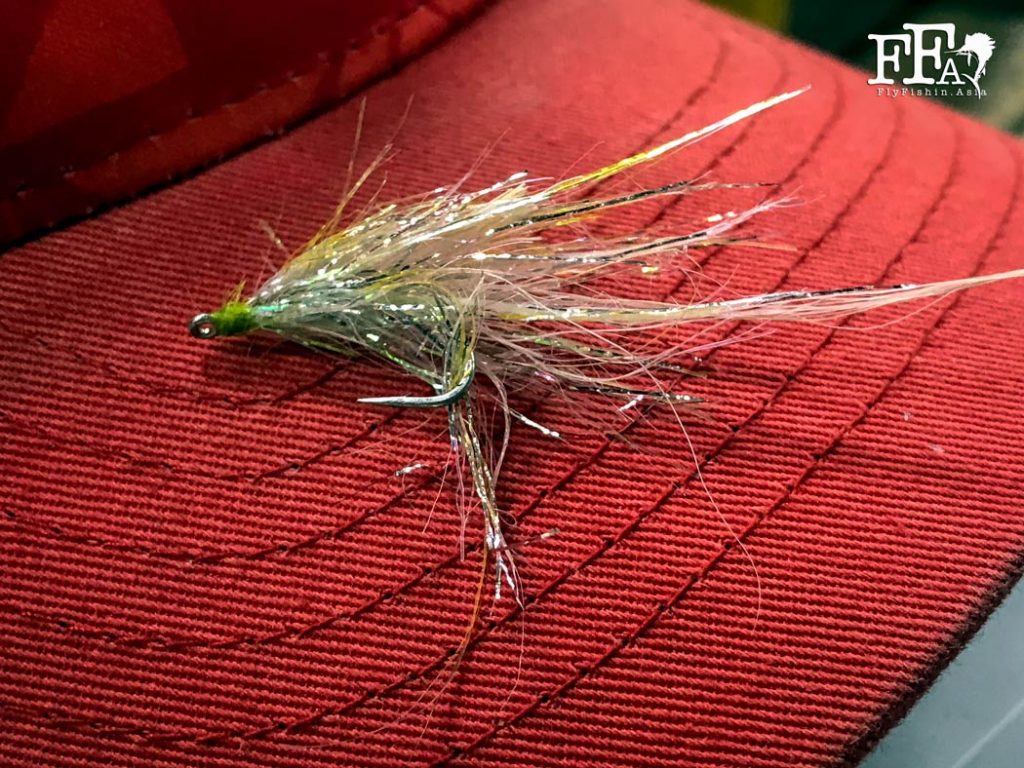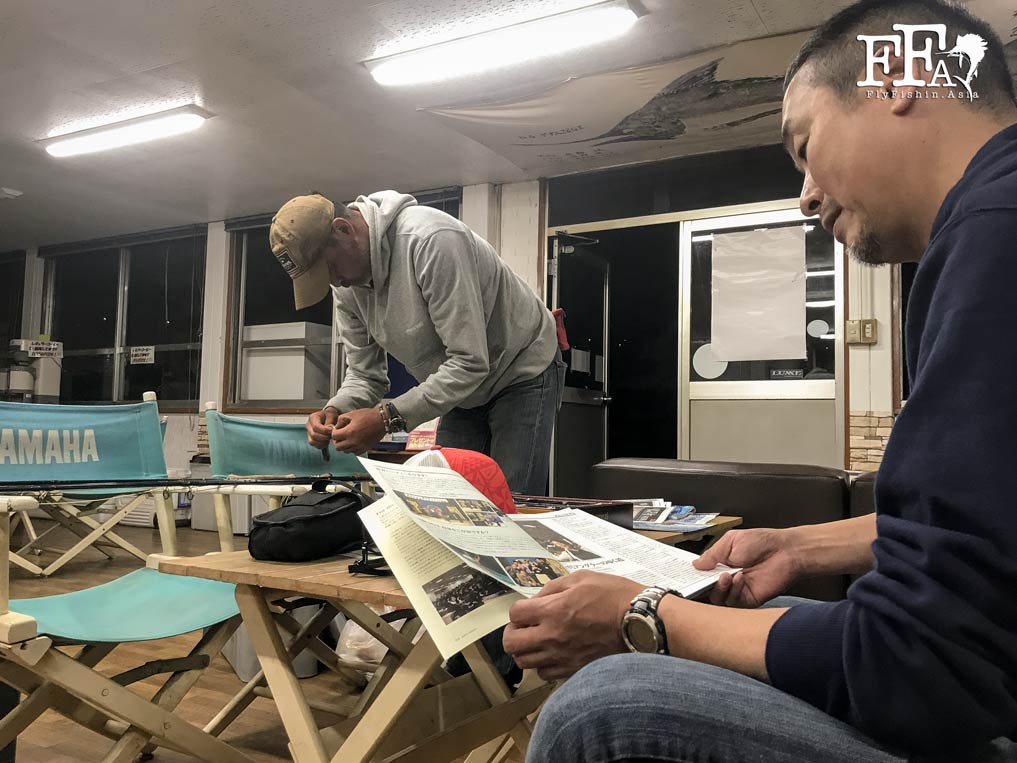 Early Breakfast
Just before we ended our fishing at this spot, we experienced a brief moment of absolute madness. It was literally one cast one fish! Yusaku San had a video of me doing just that. And a smaller size fish I was bringing in nearly got eaten by a big suzuki! What a way to end a session.
By around 1:30am and after easily 30 to 40 fish landed, we decided to call it in and headed back to the marina.
Along the way we stopped briefly to look at some spots to observe the activities.
After a quick wash of the boat and packing up we headed to a 24-hour eatery to have some Tonkatsu, a very filling hot bowl of deep fried port cutlet with rice that we call an early breakfast.
Not Every Day Is A Sunday
Obviously, one cannot expect Japanese seabass fishing to always be this good.
Once in a while, every angler encounters a great day on the water – 'every dog has its day' – the old adage says. Other days on the waters are mostly average, challenging, or disastrous, but that's what makes the sport so engaging and addictive.
'Mixed Bag' Trip
As an avid angler, these days I try to include some elements of fishing into my other travel plans. Since I'm already there, why not maximise the time?
These can include meeting local fellow fishing friends, timing the dates to coincide with fishing events or shows, visiting local fly and tackle shops and finally the best of all…getting some fishing in – if the family allows it. And fortunately, I have a fantastic and very understanding spouse who will worry if I do not go fishing!
Taking a day or evening out Japanese seabass fishing now seem like a good idea that I feel every traveling fly fishers should include in their itinerary at least once when in Japan.