I wore the backpack on my back for eight days during a recent trip to The Maldives and it gave me a clear picture of whether it works on the flats, for me.
On previous trips, I'd use a sling pack, such as the Fishpond Westwater Sling Pack during more recent years. Which has since been replace by the Fishpond Thunderhead Submersible sling pack.
The massive 38-litre capacity Fishpond Wind River roll-top backpack that I use is great for traveling, allowing me to stuff all my clothings and camera gears into it during transit and as a carry-on luggage bag in the aeroplane.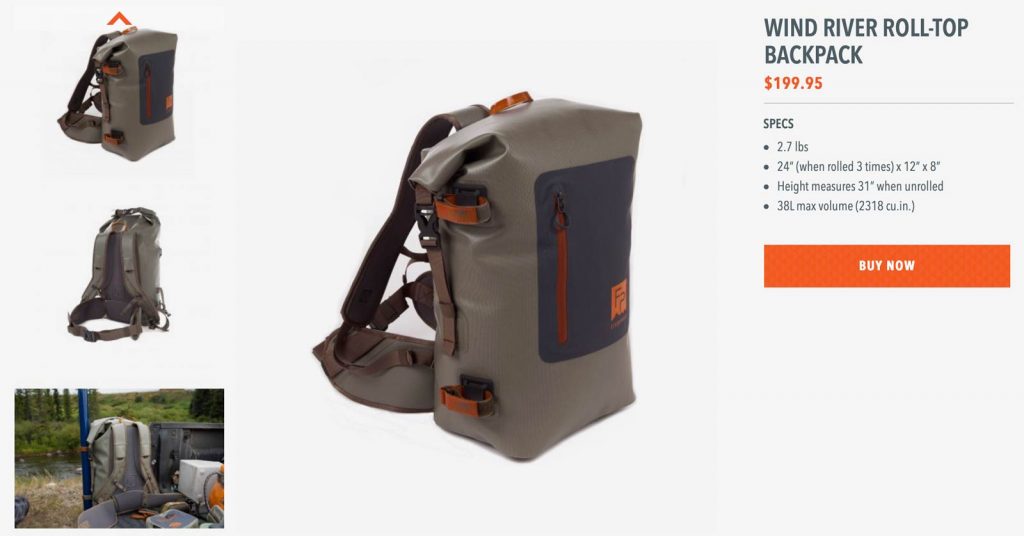 A Backpack That Carry All
My check-in luggage meanwhile is filled to the brim with only fishing gear from rods to reels to hooks to jigs, you name it. Everything that is heavy and those that airlines do not allow us to bring into the airplane cabin.
I always feel they should allow us to bring our rods and reels onboard. Airlines do state that we should not check-in valuable items, after all. And you know some of our rods and reels do cost quite a bit of money. Very conflicting statements they are making as far as I can see.
Why Not A Backpack On The Flats?
The roll-top backpack is all good until you're standing in the water fishing.
Water Problem
You need to drink a lot on the sometimes-hot-as-hell flats. Staying hydrated is super important.
I know some people modify their backpacks by making a small hole near the top and adding a hydration pack inside. That's quite a good idea actually. Every time you need to have a sip, just suck from the tube mouthpiece!
Click here for the link on how to customise your backpack with a Camelbak hydration pack.
I tried out a different method this time. I used a Mont-Bell bottle holder for the first time to see how well it'd work.
The holder is adjustable and wraps around the shoulder strap of the backpack.
The thing that attracted me to the Mont-Bell bottle holder is its versatility. I can detach and use it for other bags or purposes.
I think it worked okay in this case. The bottle is easy to get to and put back. Being so conspicuous also serves as a reminder to have a sip every now and then.
Tool Within Easy Reach?
Not so much. There is the 'plier holder' built into the hip strap of the Wind River backpack (see the first image in this post) but watch it, as your tools are not very secure and can drop out.
A friend had a problem with his plier frequently dropping out. I use a Redington haemostat here (one of my favourite tool) but with a zinger attached to it so it doesn't disappear (I'm trying to reduce the number of tools that keep going missing so having tools secured helps).
Not Easy To Get To The Flies
You know how we fly fishers can sometimes be. Why are the fish not biting? I must be using the wrong fly (which quite often may not be the case!).
Anyways, what I'm pointing out is that we often change flies. Often times, too frequently.
The backpack can be a problem here. Especially a backpack this size.
Every time I need another fly I need to take it off completely, find a way to set it down somehow whether off one shoulder, or on the stripping basket, or on the water. Dropping the backpack and having some of the contents spill out into the saltwater would be quite bad here.
A fly patch will probably help. You'll need to fashion one yourself if you want that on the shoulder strap.
What I did this time is sticking my flies onto my cap. I'm not actually a big fan of doing this although some people think it looks cool. Maybe.
I'm always worried a fly will drop off someplace where it can be of danger to someone barefoot accidentally stepping on it.
Of course, all that issues can be overcome by using a chest pack that attaches to the backpack (image below). That's one way for some I guess.
The backpack + chest pack combo looks so busy, don't you agree?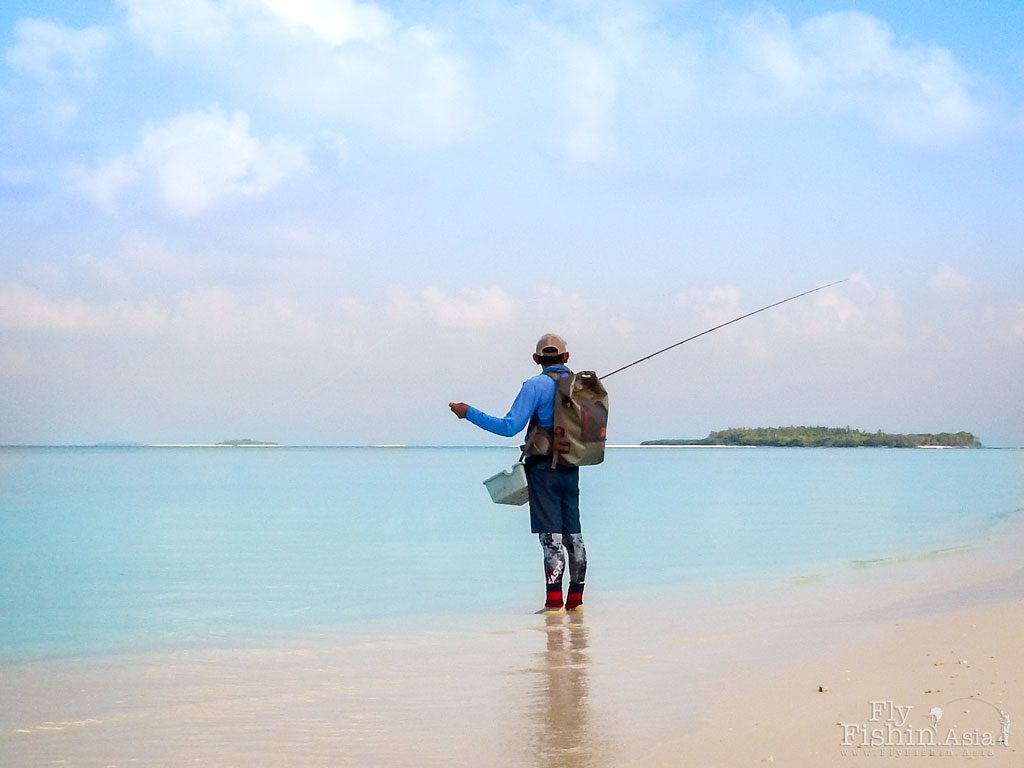 Conclusion
So I've now gone fishing on week-long fishing trips both on the flats and in rivers mahseer fishing.
Unless I need to carry everything with me almost all the time, the backpack is not the best option. It is almost like an overkill.
If you're guiding however, not fishing and need to carry a lot of gear (for client's needs) while wading, this could be an option.
A sling pack will be my choice for a day fishing on the water. At the end of the day's fishing, everything can be re-stocked for the next day.
Most sling packs are closer to the perfect size for a day out. Frequently needed tools, gears, water and flies are easier and quicker to access.
What do you think?