A catch of a lifetime!
What a catch by Affendi. Giant gourami are one of the most challenging fish to catch as they are very very unpredictable and such finicky eaters.
Just catching one on the fly is already a fantastic effort, let alone a monster like this one and on foot.
Some Facts About The Giant Gourami
The giant gourami (Osphronemus goramy) is a species of large gourami native to rivers, streams, marshes, swamps and lakes in Southeast Asia.
It is capable of breathing moist air, so can survive out of water for long periods.
Maximum length are recorded around 70 cm (28 in), though most caught average around 45 cm (18 in). They are very long-lived, possibly reaching up to 40 years old.
Possibly the largest recorded specimen, ref Wikipedia, was an O. septemfasciatus caught in Sarawak, was 72.5 cm (28.5 in) in length and weighed 20.5 kg (45 lb).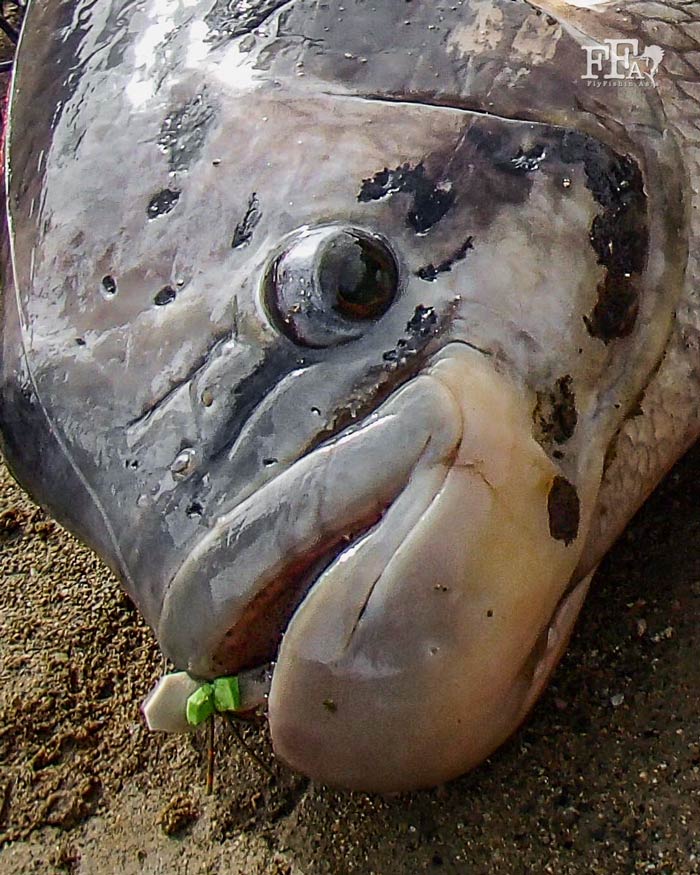 Giant gourami is an egg layer, and the male will build a bubble nest before spawning using weeds and twigs.
The dorsal fin on the male ends in a point, and the body is darker.
Three months old giant gourami are around 7.5 cm or 3 in long and have a pronounced beak.
They can grow rapidly in the wild, from 7.5 cm to 50 cm in four years. A mature giant gourami will develop a hump just above its eyes.
They feed mostly on fruits, seeds, leaves, flowers, bark and roots from land plants, aquatic plants and algae, but will also take small animals like insects, worms, crustaceans, fish and amphibians.