Located just outside of the small Semenyih town, is the pond with arguably the largest pacu to be caught in Malaysia.
Semenyih is somewhat notorious for a couple of fishing ponds such as the very old but still going strong Sukida and the popular Fish Valley amongst others. Interestingly, all located along the same stretch of road.
From its beginning in 2013/14, Saujana D'Rimba started with two ponds which later became four and five ponds exist at the time of writing.
The two main stocked fish species here are the pacu and patin or iridescent shark (Pangasianodon hypophthalmus – a species of shark catfish native to the rivers of Southeast Asia. Despite its name, it is not a shark). More information below.
Many bait or bottom fishing anglers frequent this place and competitions are regularly held attracting large number of participants.
More About The Pacu Fish
The small-scaled pacu, Paraná River pacu or simply pacu (Piaractus mesopotamicus)
The pacu (Piaractus mesopotamicus), is a South American ray-finned fish that is native to the Paraguay-Paraná River basin, but it has been introduced by aquaculture activities.
Its colour is dark grey to silver, with a white belly and a yellow breast. It reaches up to 62 cm (2.03 ft) in length and 20 kg (44 lb) in weight.
The other member of its genus, P. brachypomus, can be distinguished by its larger scale-size and the lower number of lateral scales (less than 110).
P. mesopotamicus is an omnivore. Young individuals usually feed on micro-crustaceans, while adults feed on plant material and insects. Main food items for adults are nuts and seeds that fall from trees in flooded forests.
Red-bellied pacu (Piaractus brachyomus)
The red-bellied pacu (Piaractus brachypomus), the pirapitinga, is a large species of pacu, a close relative of piranhas and silver dollars, in the serrasalmid family. It is native to the Amazon and Orinoco basins in tropical South America, but it is widely farmed and has been introduced to other regions.
Tambaqui (looks like pacu but not of pacu species)
Note: information sharing only. The tambaqui is not found in Saujana D'Rimba
The tambaqui (Colossoma macropomum) is also known by the names black pacu, black-finned pacu, giant pacu, cachama, gamitana, and sometimes as pacu.
It is native to tropical South America, but kept in aquaculture and introduced elsewhere.
The tambaqui is currently the only member of Colossoma, but the two Piaractus species were also included in this genus in the past.
The tambaqui is native to freshwater habitats in the Amazon and Orinoco basins of tropical South America.
It can reach up to 44 kg (97 lb) in weight.
The largest caught by rod-and-reel and recognized by IGFA weighed 32.4 kg (71 lb).
It is similar in shape to the piranha and juveniles are sometimes confused with the carnivorous fish; the tambaqui is tall and laterally compressed with large eyes and a slightly arched back.
The lower half of its body is typically mainly blackish. The remaining is mainly gray, yellowish or olive, but the exact hue varies considerably and depends in part on habitat with individuals in blackwater being much darker than individuals from whitewater.
The tambaqui resembles the pirapitinga (Piaractus brachypomus), but the latter species has a more rounded head profile (less elongated and pointed) and a smaller adipose fin that lacks rays, as well as differences in teeth and operculum.
Hybrids between the tambaqui and the similar Piaractus (both species) have been produced in aquaculture. The hybrid offspring can be difficult to identify by appearance alone.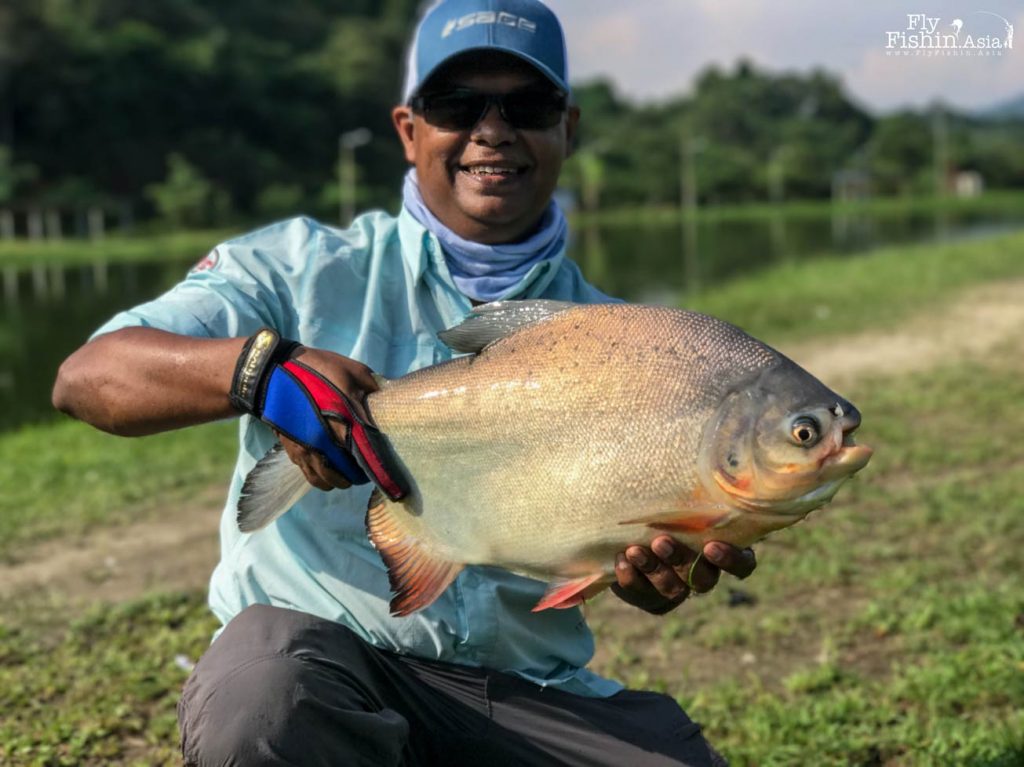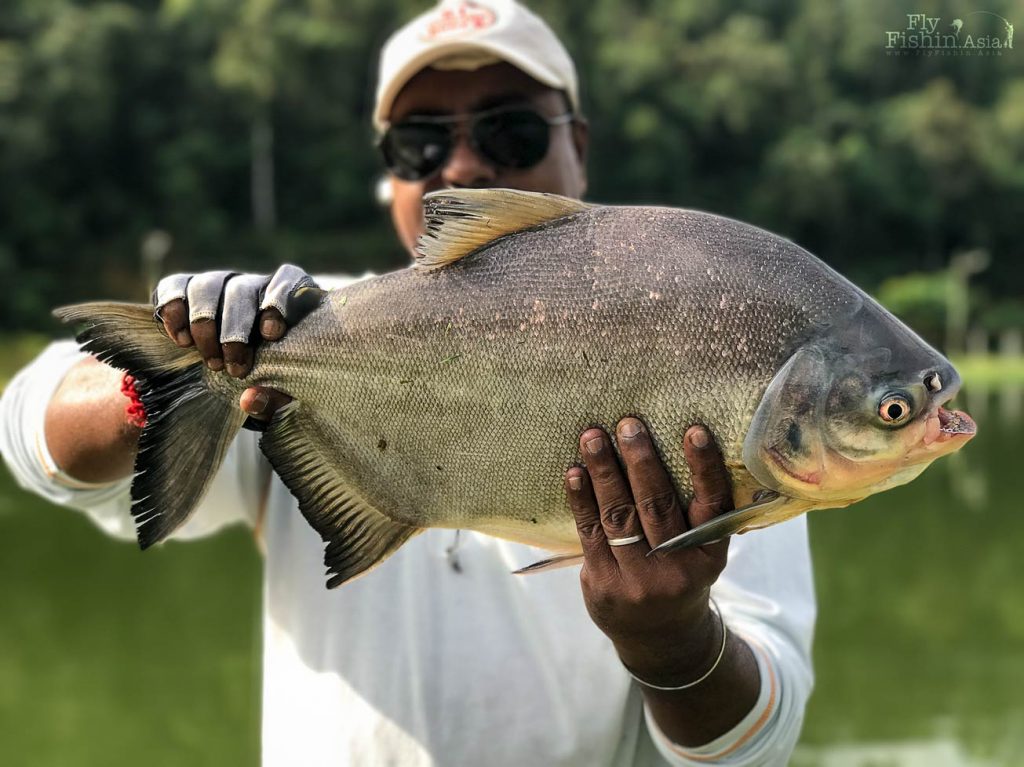 Pictures of some very big pacu on fly
The Iridescent Shark
Local name Ikan patin or patin fish. Thai name: Pla Sawai (Pangasianodon hypophthalmus).
Also known as striped-catfish as juveniles have a black stripe along the lateral line and a second black stripe below the lateral line.
The fish is named for the glow or iridescence of it's leather-like body, as well as the shark-like appearance of its head.
The patin is native to Southeast Asia countries.
Adults can reach up to 130 cm (4.3 ft) in length and can weigh up to a maximum of 44.0 kg (97 lb).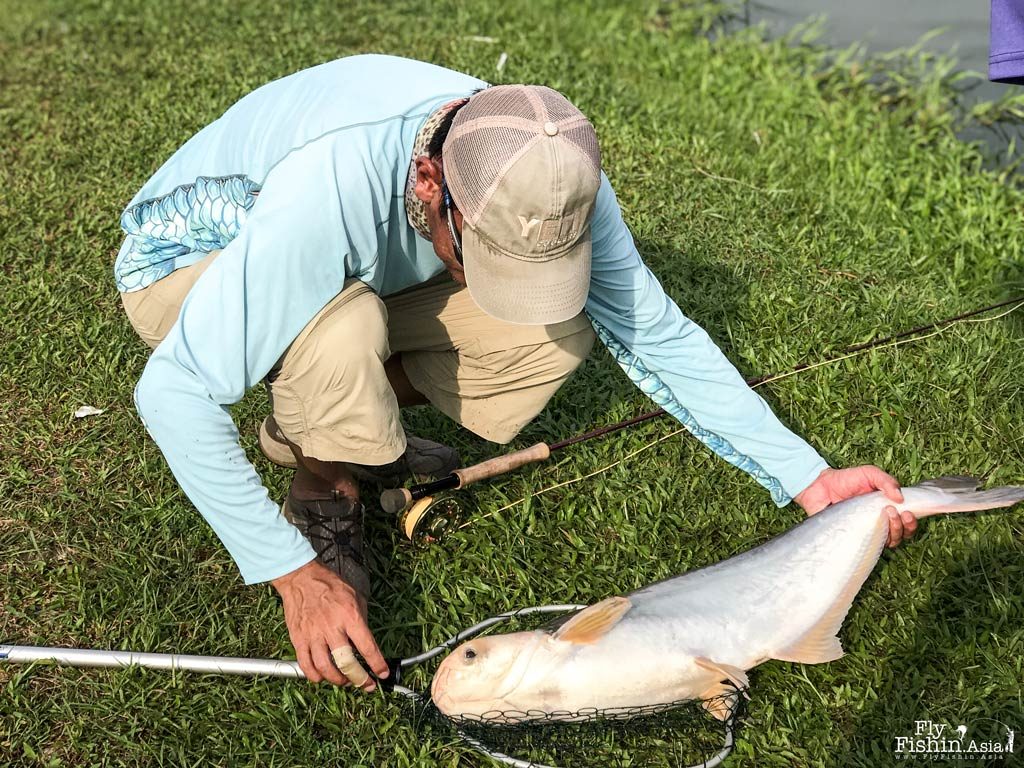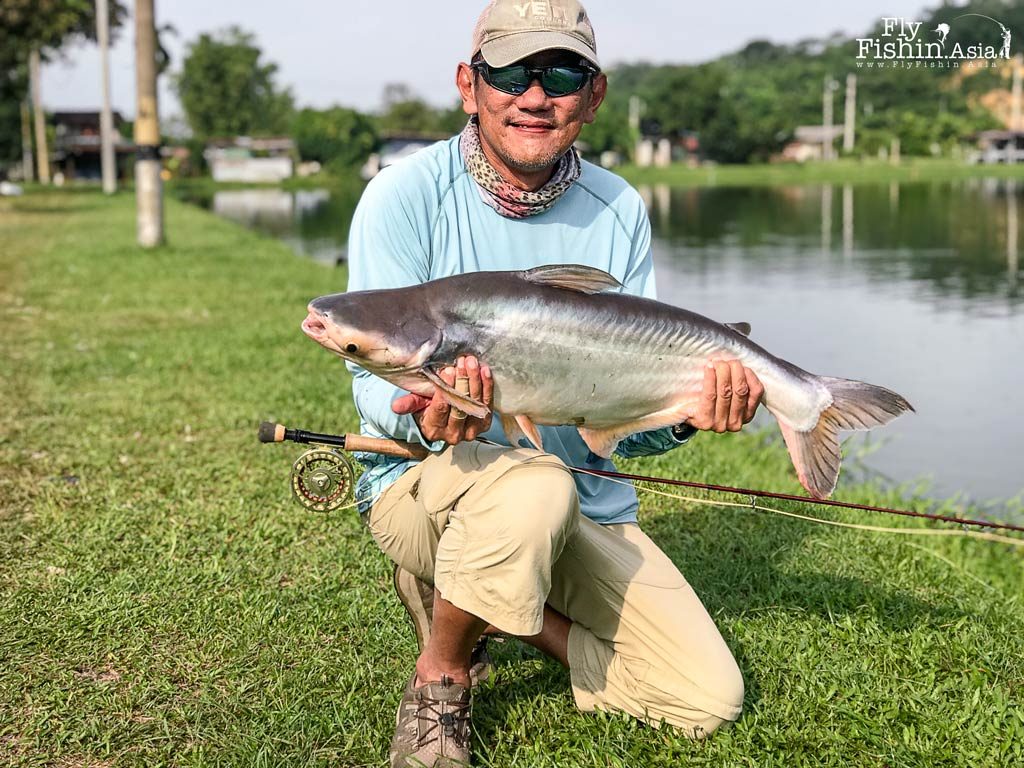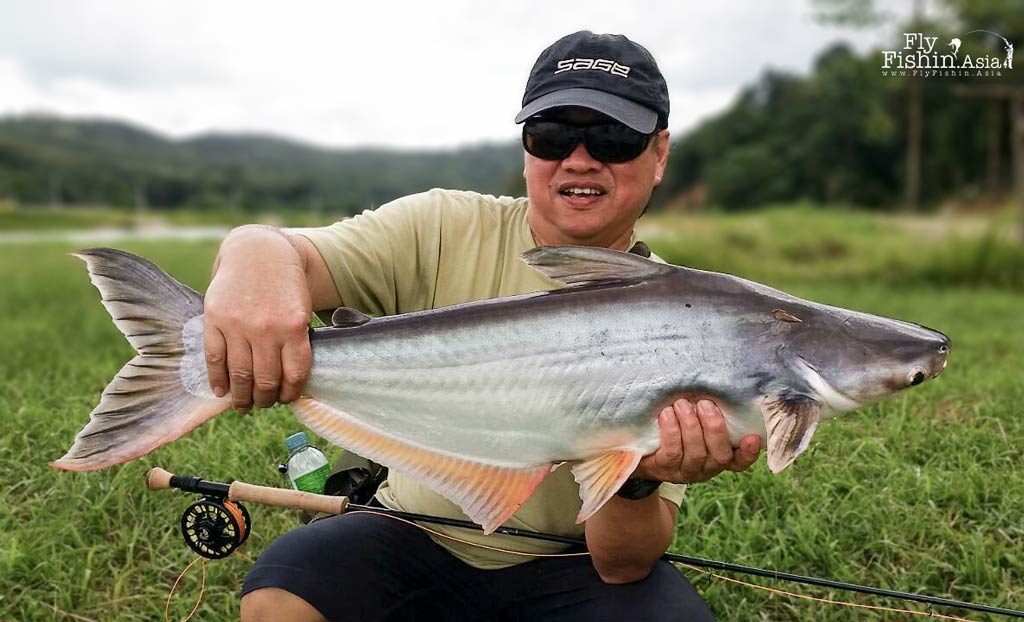 What Flies?
As for fly fishing, the most common flies are rabbit zonkers to imitate the bread used by some bait anglers.
Other flies that will catch pacu are streamer flies like woolly buggers and also nymphs. These two types of flies will only catch you the pacu whereas the zonkers will also catch the patin.
Takes for both streamer and nymph flies are usually by slow strips, such as figure eight retrieve, or on occasions during the drop.
The iridescent shark have been known to eat woolly bugger fly on rare occasions.
As pacu have strong teeth, be prepared for some bite offs, especially when using nymph flies.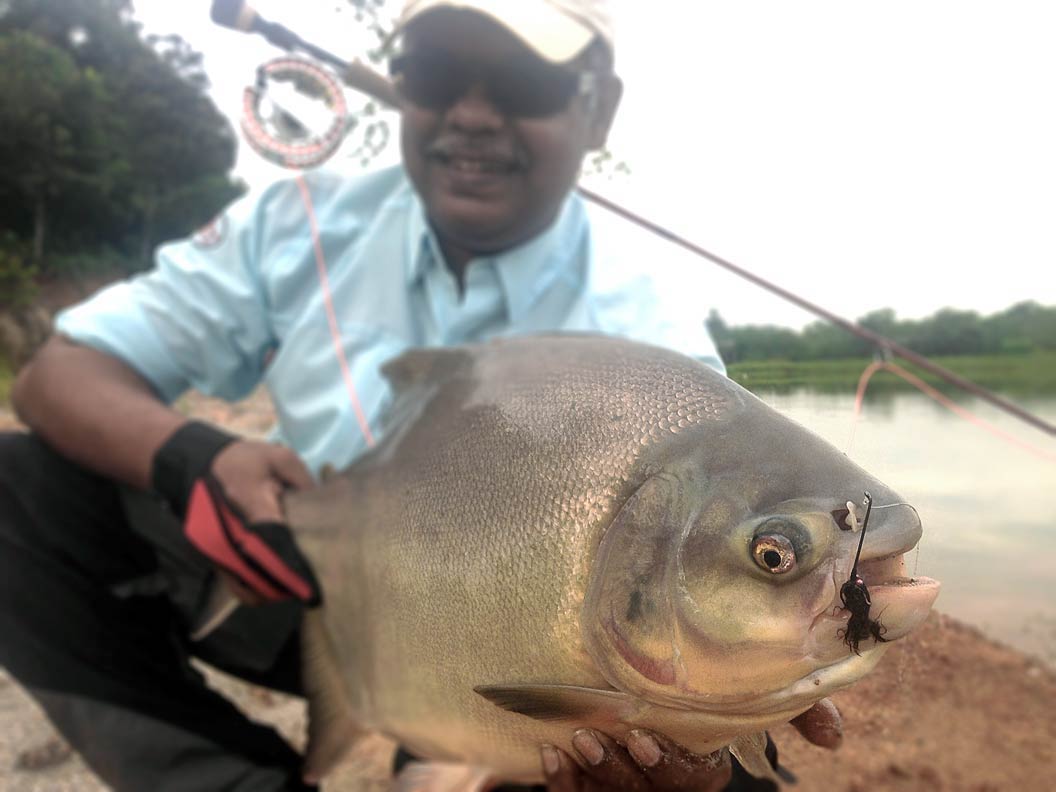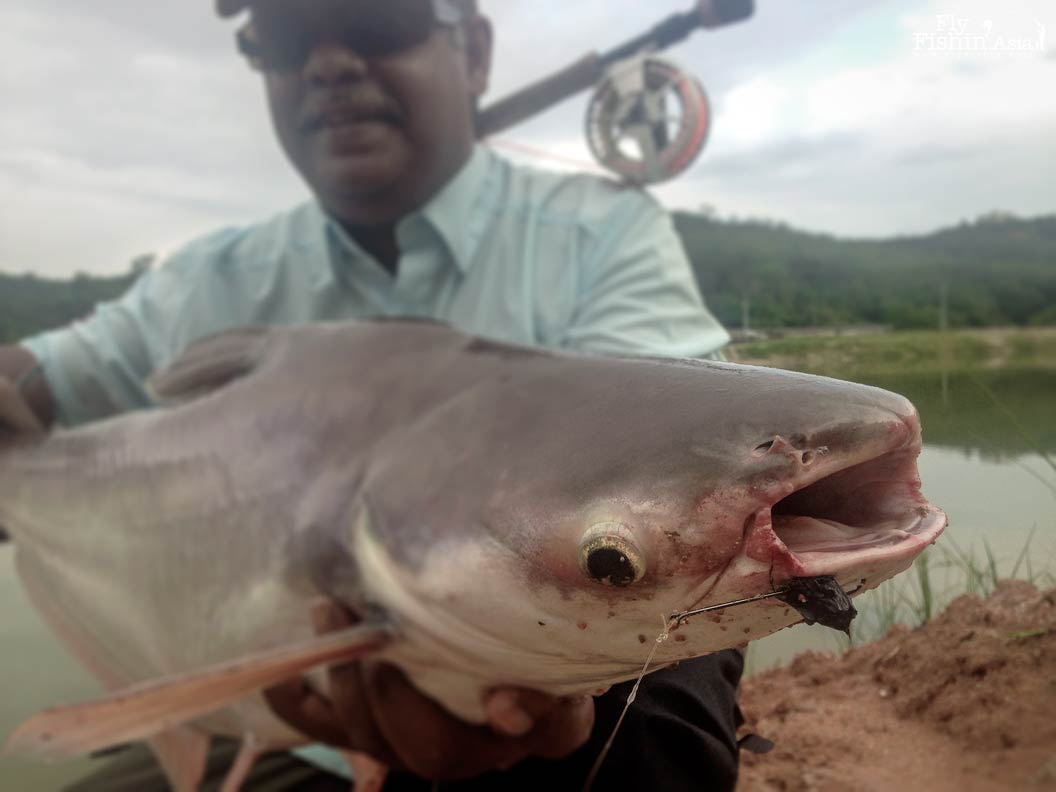 Back Cast Space?
There are plenty of back cast room at most areas of the ponds, except for some sections of the ponds.
As always, be aware when making back casts. Better still, always look at your back casts – which is a good habit to have in my opinion.
Where Is Saujana D'Rimba?